Draghi's ABS Bashers Overlook Critical Support, RBS Says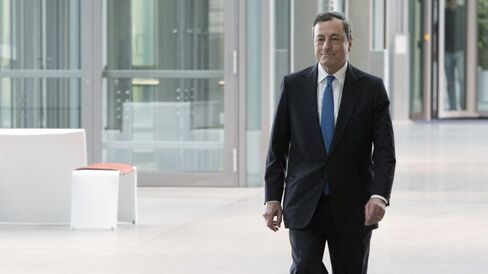 ECB "endorsement'' of securitization seen helping recovery

Limited purchases likely to be gripe at Global ABS conference
Asset-backed security issuers and investors should be thanking Mario Draghi for rehabilitating the market rather than complaining about how the European Central Bank has spent far more money buying other types of bonds, according to Royal Bank of Scotland Group Plc.
The ECB's 8.2 billion euros ($9.2 billion) of asset-backed purchases is "no mean feat" and it has helped give the market renewed legitimacy, according to Ganesh Rajendra, RBS's London-based head of credit and asset-backed strategy. ECB President Draghi has also championed the securities, which were at the center of the 2007 financial crisis, to help revive lending.
"Securitization has been gentrified by the ECB," said Rajendra, who moderated a panel about the ECB's purchases at Global ABS 2015 in Barcelona on Wednesday. "The central bank's implicit endorsement of the asset type is likely to prove critical to its recovery," he said.
The ECB's limited buying of asset-backed securities is a gripe among the more than 1,600 investors, issuers and traders of structured debt attending Global ABS because the Frankfurt-based institution has spent more than 10 times as much on covered bonds under a similar program. Both initiatives were begun in the last quarter of 2014 to help spur euro-area lending and growth.
"Sentiment is clearly in something of a downward spiral," Gareth Davies, JPMorgan Chase & Co.'s head of European asset-backed securities research in London, wrote in note on Friday. "The bounce in people's step going into last year's conference following the announcement of the ABS purchase program could not be further from the mark this year."
Removing 'Stigma'
The ECB's buying of ABS has been curtailed by the far smaller number of public sales than for covered bonds or government securities, Fernando Gonzalez, head of the the bank's risk strategy division, said in a speech at the conference. RBS's Rajendra also highlighted stringent due diligence and cautiousness about influencing price discovery. The approval process can take as long as two weeks, according to JPMorgan.
The program, which will run until at least September 2016, shouldn't just be judged on its size, Gonzalez said. Key criteria should include whether it encourages the issuance of more "simple and transparent" deals and how it removes the "stigma" from asset-backed securities, he said.
Gauging Success
"One should wait longer before ABS issuance can be used to gauge the success of the program," he said. Issuancehas also been held back by factors beyond the scope of the initiative, such as cheaper alternatives and an "uneven playing field" in terms of regulations, he said.
Asset-backed security issuance in Europe has totaled 40.9 billion euros so far this year, up from 37 billion euros a year earlier. Still, it's far short of the 187.2 billion euros raised in the same period of 2006, the busiest year for sales.
European issuance boomed through 2007 before seizing up in the credit crisis, when the larger U.S. market stalled amid soured bets on home loans. Regulators subsequently tightened rules on asset-backed securities, which were blamed for stoking a housing bubble and concealing risk due to opaque structures.
The European asset-backed market is now beginning to pick up, partly because of ECB help, said Gordon Kerr, head of European structured finance research at credit ratings firm DBRS Ltd. in London. Kerr particularly highlighted growth in sales of notes backed by leveraged loans and commercial mortgages.
"While we are still missing the large prime transactions, we do have a recovering market with a diversity of assets being securitized," he said.
Toxic Debt Condemned in Crisis Heralded as Europe's Savior
Draghi's ABS Stimulus Seen Choked by Bureaucracy: Credit Markets
ECB Powers Seen Limited as Asset-Backed Securities Spreads Widen
Before it's here, it's on the Bloomberg Terminal.
LEARN MORE