Burundi Rights Group Says 77 People Killed Since Late April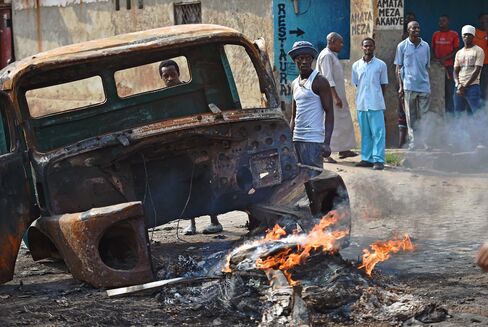 At least 77 people have been killed in Burundi and more than 1,000 detained since protests erupted in the country in late April, a local rights group said.
About 500 others have been wounded in clashes sparked by President Pierre Nkurunziza's bid for a third term, Pierre Claver Mbonimpa, head of the Association for the Protection of Human Rights and Incarcerated Persons, said Wednesday in an interview in the capital, Bujumbura.
The figures were reached by conducting a census across the East African nation, Mbonimpa said. The country's Red Cross on June 4 said that at least 21 people had died in the unrest.
Burundi has been rocked by demonstrations since the ruling party nominated Nkurunziza as its presidential candidate for elections rescheduled to July 15. Opponents say his bid violates a two-term limit set out in peace agreements that in 2005 brought an end to a 12-year civil war.
Burundi holds 6 percent of the world's nickel reserves, according to the African Development Bank. Kermas Group, a London-based investment company, is developing a mine at Musongati in the nation's southeast, which ranks as one of the 10 largest known deposits of the metal.
Hundreds of demonstrators assembled Wednesday morning in Musaga, a district of the capital, to call for Nkurunziza to withdraw from next month's vote, protest leader Elie Nijimbere said in an interview. Supporters argue that Nkurunziza's first mandate doesn't count because he was elected by parliament not the public. Police spokesman Pierre Nkurikiye on June 15 said that all protests were over.
Burundi will begin its rescheduled election cycle with a June 29 parliamentary vote, the presidency said last week. More than 100,000 refugees have fled to neighboring countries since early April, fearing political violence, according to the United Nations.
Before it's here, it's on the Bloomberg Terminal.
LEARN MORE