Watch U.S. Bank-Stock Ratio to See If Yellen Fed Moves Too Fast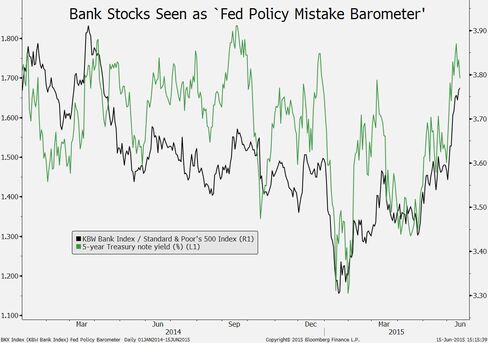 Bank stocks will show whether interest-rate increases by the Federal Reserve are well timed, according to Michael Hartnett, chief global equity strategist at Bank of America Corp.'s Merrill Lynch unit.
The attached chart illustrates how the ratio of the KBW Bank Index, consisting of 24 stocks, to the Standard & Poor's 500 Index compares with the yield on five-year Treasury notes. Hartnett made a similar comparison two days ago in a report.
"Investors should watch bank stocks as the 'policy mistake' barometer," Hartnett wrote. When rates are rising, an increase in the ratio would show the Fed's monetary policy was on target and a falling ratio would signal an error, the New York-based strategist wrote.
Fed Chair Janet Yellen and other policy makers will begin a two-day meeting today to set strategy and update their economic outlook. There's almost no chance they will increase their rate target, which has been left at zero to 0.25 percent since 2008, according to a Bloomberg survey of economists.
"Thus far, the bank stocks say it's safe for the Fed to hike," Hartnett wrote. He cited a prediction by Merrill's U.S. economists that the target, affecting overnight loans between banks, will rise in September.
The effect of the rate increase on markets will be less predictable than usual, he wrote, partly because it will be a first step to end monetary easing that spurred stock and bond gains since 2009. He gave two more reasons: the recession that occurred after the Fed last raised rates from near zero in the 1930s and New Zealand's rate reversals in this decade.
Before it's here, it's on the Bloomberg Terminal.
LEARN MORE