This Former NFL Player's $8 Billion Mortgage Lender Started With a Google Search
Casey Crawford went from playing on a team that won the Super Bowl to running a mortgage company that he expects to originate almost $8 billion in U.S. home loans this year.
Crawford founded Movement Mortgage after retiring from the Tampa Bay Buccaneers. He had already invested in real estate, buying houses in the off-season and then renovating and selling them quickly for a profit. His home-loan firm has doubled the dollar volume of mortgages issued each year since its 2008 inception, he said.
"I actually Googled 'how to start a mortgage bank,'" Crawford, 37, said in a telephone interview. "We got to build from the ground up what 21st-century customer experience can and should look like. We went from seven employees to, this month, 2,000."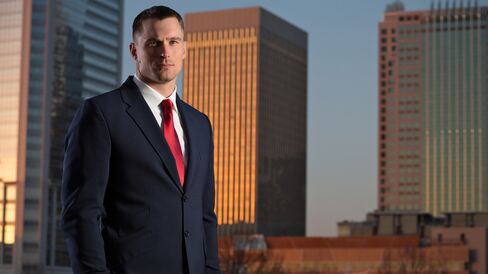 Movement Mortgage is one of the many nonbank lenders gaining ground as companies including Wells Fargo & Co. and JPMorgan Chase & Co. cut their home-loan divisions. Four of the top 10 mortgage originators in the first quarter, including Quicken Loans Inc. and Freedom Mortgage Corp., weren't banks, according to data compiled by Inside Mortgage Finance. These firms were responsible for 37.5 percent of loans made last year, up from 26.7 percent in 2013, the newsletter's figures show.
New Regulations
Banks are struggling to adjust to new regulations that force them to hold more capital for some assets they have, which is restricting lending and creating an opening for more nimble competitors. Traditional lenders also are experiencing limited gains under Federal Reserve policies that have pegged interest rates near zero since 2008.
At Wells Fargo, the largest lender to homeowners, net interest margin -- the difference between what it makes on loans and what it pays for funds -- dropped to less than 3 percent last quarter for the first time since at least 1994.
Nonbanks are filling a void left by banks, especially for first-time homebuyers and minority borrowers, according to David Stevens, president of the Mortgage Bankers Association.
"The nonbanks are protecting the housing market from a much slower recovery -- or it could be a non-recovery story," Stevens said in a telephone interview. "What led to that is a defensive posture by a lot of institutions that used to make up the dominant role for lending in this country."
Mortgage-related fines and settlements cost institutions about $138.5 billion from 2010 to 2014, according to the Mortgage Bankers Association.
Quicken Sues
Quicken, a nonbank and the largest originator of loans insured by the Federal Housing Administration, is now facing similar regulatory hurdles to banks -- and is fighting back.
The lender sued the Justice Department and the Department of Housing and Urban Development on April 17, contending the agencies were pressuring it to "make public admissions that were blatantly false, as well as pay an inexplicable penalty or face legal action," the Detroit-based company said in a statement.
A week later, the government sued Quicken, accusing the company of submitting insurance claims for hundreds of improperly underwritten FHA-insured loans over four years. Both suits are still pending.
"The Department of Justice had been on a nearly three-year campaign of harassment and threats against Quicken Loans, with no end in sight," Quicken Chief Economist Bob Walters said in an e-mail. "At some point you have to draw a line in the sand."
Ed Golding, principal deputy assistant secretary at the Department of Housing and Urban Development, declined to comment on specific lawsuits.
'More Clarity'
"Part of the puzzle on access to credit is creating more clarity into what the rules of the game are around when you get an FHA mortgage insured," Golding said.
Quicken is resisting settling with the government partly because it's asking the company to make admissions that are false, according to Walters. The company grew quickly by using technology to process and close loans faster than banks, he said.
Being focused on lending is one reason nonbanks have expanded so rapidly, according to Crawford of Movement Mortgage, who was a tight end when he played in the National Football League, which required him to alternate from blocking to catching passes.
"It's not one of 20 things they do," he said.
Targeting Millennials
Crawford's company is targeting millennials, unlike many of the banks, hedge funds and private equity firms chasing the nation's wealthiest buyers. Its average loan amount is $190,000. Movement Mortgage has credit lines with six lenders, including UBS Group AG and EverBank Financial Corp., to fund mortgages, according to Crawford.
Nonbanks have focused on expanding their FHA-backed loans, an area in which some of the biggest lenders have scaled back, said Stevens of the Mortgage Bankers Association. Those banks prefer to target core customers, cross-selling them credit cards and auto loans while holding their savings in low-yield accounts.
The FHA has played an expanding role since subprime lending, which provided mortgages to borrowers with low credit ratings, dried up. The share of nonbanks selling mortgage bonds guaranteed by U.S. agency Ginnie Mae -- securities backed by FHA, Department of Veterans Affairs and Department of Agriculture loans -- is rising every month and has surged to 65 percent, up from 18 percent in 2011, according to Ginnie Mae President Ted Tozer.
Not Temporary
The pullback by banks from home lending isn't temporary, and Ginnie Mae has to accommodate nonbanks to help expand mortgage credit, Tozer said last month at a Bloomberg Government event.
For borrowers, the source of their mortgages should make no difference because all lenders must clearly disclose loan terms and ensure ability to repay the debt, said Sam Gilford, a spokesman for the Consumer Financial Protection Bureau.
"These rules apply to all mortgage lenders, regardless of whether they are banks or nonbanks," he said.
The growth of nonbanks has reduced the risk to the financial system, making "too big to fail" lenders less dominant, Stevens said.
"In some ways, it's healthy for the housing system, because we have less concentration of risk," he said. "But you really have to ask yourself what caused this."
(An earlier version of this story corrected Quicken's reason for not settling a government lawsuit and the spelling of Sam Gilford's name.)
Before it's here, it's on the Bloomberg Terminal.
LEARN MORE