Taser Is Charging Stunning Fees to Handle Police Video
One police department is paying nearly 23 times as much for video licensing and storage as Amazon charges for storage alone. Taser says the comparison is one of apples vs. oranges
The increasing use of body cameras to record police encounters has raised new questions about how to store all that video, as well as the price Americans will pay in privacy. What about the price in dollars and cents?
A $2.7 million contract between Taser International and the Fort Worth, Tex., police department shows that keeping an archive of digital police videos doesn't come cheap. Under the five-year contract, the police department is paying Taser nearly 23 times as much to license the company's Evidence.com app and cover video-storage fees as Amazon Web Services charges for storage alone. Taser itself uses Amazon to host files for Evidence.com.
What do the police get for those additional services? A lot, says Taser spokesman Steve Tuttle. Evidence.com is not only a storage system, he says, but an "ecosystem" that "securely manages, shares, and provides tools and mobile applications well beyond just storage, including audit trails, redaction capabilities, and chain of custody." He says Amazon's platform doesn't provide all those options, so a direct comparison is inaccurate.
"By looking at the storage line items, you can see that we've never charged a customer over $1.50" per gigabyte per year, Tuttle adds. Amazon charges a little less than 3¢ per gigabyte per month, or about 36¢ a year, for its top storage option—again, without all the functionality of Evidence.com.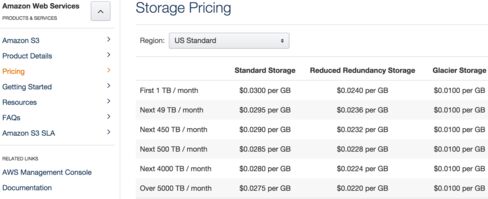 Still, if the basic aim is to store video from police body cameras for use as evidence, the difference in price is significant. Fort Worth purchased 64 terabytes of storage a year from Taser to go with 420 cameras, according to the contract. Amazon's highest-priced video storage service costs about $30 per terabyte per month, or about $23,040 a year for 64 terabytes, assuming no bulk discount. That compares with $527,198 in annual charges the Fort Worth police department is paying Taser for licensing and storage—the $2,721,490 contract minus the $85,500 total paid for the warranty and extra service options, divided by five years.
According to its product details, Amazon's service includes "an audit trail so you can see who used your key to access which object and when." Video redaction, or editing, isn't noted on Amazon's site but is available on the Web; Apple's iMovie, for example, costs $14.95.
Taser also supplies stun guns and body cameras to law enforcement agencies. In the Fort Worth contract, the price of the body cameras is waived, along with additional hardware fees. Even subtracting those at full retail cost, Taser's service is 14 times as costly as storage on Amazon.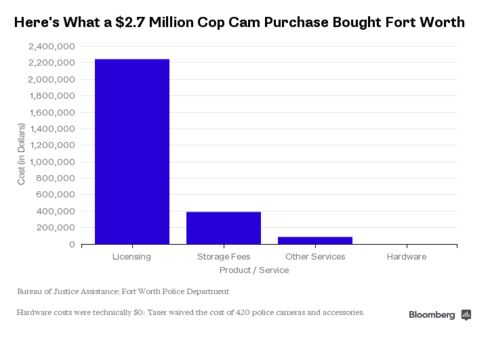 Taser has a team of about 50 engineers in Seattle who manage Evidence.com's back end, supporting an infrastructure for editing and bookmarking audio and video clips, sharing files, and generating reports on how frequently officers use their on-body cameras, among other features. The reports would be useful in such places as New Orleans, where the police department's superintendent has said any officer's failure to record a civilian interaction "won't be tolerated."
"We typically have four-hour training sessions to go over all of the available features," Evidence.com product manager Abraham Alvarez says. Taser provides regular software updates, and future upgrades to the product could someday integrate dashboard and evidence-room video. The alternative is "having agencies build their own data centers and have their own IT guys handle all of these huge and complicated data systems," Alvarez says.
For the Fort Worth Police Department, price wasn't the only consideration. "Only certain companies can be considered, as we have specific needs in reference to the storing of criminal evidence," Officer Tamara Pena, a spokeswoman for the department, saiys.
Body camera sales to law enforcement authorities are surging after a rash of shootings by police across the country. followed by protests. The Justice Department plans to make $75 million in federal grants available to provide as many as 50,000 cameras to local police departments. The flurry of activity has raised questions about how to upload and securely store the huge amounts of digital video data produced by police officers nationwide.
With contracts already in place to provide stun guns to most of the 18,000-plus police departments in the U.S., Taser has also grown to be a leader in the body camera and video-storage markets—a promising way to diversify, given litigation that the company has faced over the lethal use of its stun guns.
The Fort Worth contract with Taser was posted to the website of the Bureau of Justice Assistance, a federal agency that provides information to law enforcement authorities, as part of the agency's National Body-Worn Camera Toolkit.
Before it's here, it's on the Bloomberg Terminal.
LEARN MORE