Taliban Give Islamic State Ultimatum in Afghanistan Fight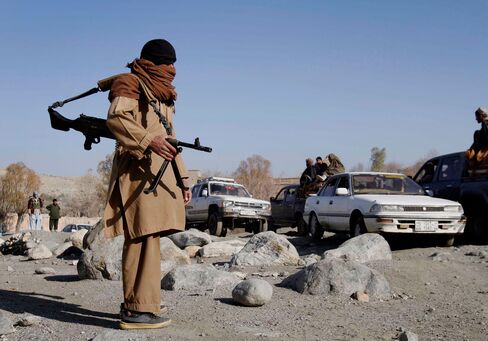 Afghan Taliban Deputy Leader Mullah Akhtar Mohammad Mansour told Islamic State leader Abu Bakr al-Baghdadi to fight alongside his organization, or face more attacks.
"There is no room for a parallel Islamic army in Afghanistan," Mansour wrote to al-Baghdadi Tuesday, according to an e-mailed statement from Taliban spokesman Qari Yousef Ahmadi. "Jihad against American occupiers and their Afghan mercenaries must be held under one flag, one leadership and one command."
The letter -- released in Pashtu, Dari, Arabic and Urdu -- shows growing discord among militant groups as the Taliban seeks to retake power. While a united front would pose a greater risk to the Afghan government, that's unlikely to happen.
The Taliban are "worried about the growing presence" of IS, Graeme Smith, a senior analyst for the International Crisis Group in Kabul, said in an e-mail. An alliance between the two organizations would create "a security nightmare for the country," but that may not be possible as they are "fundamentally different groups."
The Taliban are prepared to fight against IS if it attempts to establish an Islamic government of its own or opposes the Taliban's goal of regaining power, Mansour said. The Taliban ruled Afghanistan from 1996-2001.
'Plague'
IS fighters have made inroads in Taliban-controlled areas, prompting deadly fighting in the south and east of Afghanistan. IS beheaded several Taliban militants in eastern Nangarhar province, bordering Pakistan, earlier in June.
IS, whose origins are in Iraq and Syria, began operations in Afghanistan last year with the rapid recruitment of people in some parts of the country. Still, its forces are smaller than the Taliban's, Interior Ministry Spokesman Siddiq Siddiqi said last month.
President Mohammad Ashraf Ghani has called IS a major threat to Afghanistan and the world, urging a global alliance to defeat the "plague."
With violence increasing in recent months in Afghanistan, government officials have been pushing for a peace deal with the Taliban. Officials have held informal talks recently with Taliban representatives in Norway, Dubai and elsewhere.
Despite the peace efforts, the Afghan government's war with the Taliban is in its 14th year. The top Taliban official, or so-called shadow governor, of north-eastern Badakhshan province was killed along with 13 companions in a government air strike late Monday.
The war in Afghanistan killed 92,000 people between 2001 and 2014 and injured almost 100,000, according to a report by Brown University this month. That toll includes Afghan and foreign civilians, foreign forces and insurgents.
For more, read this QuickTake: Al-Qaeda's Heirs
Before it's here, it's on the Bloomberg Terminal.
LEARN MORE