A New Storm Threatens to Bring Floods Back to Texas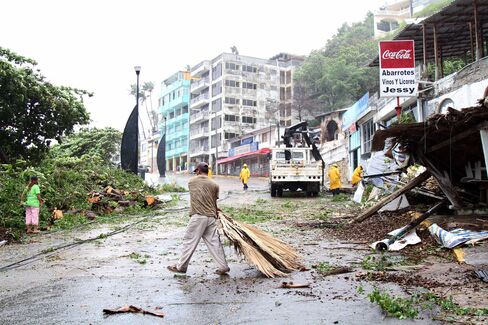 Tropical Storm Bill went ashore on the Texas mainland Tuesday near Seadrift, packing heavy rains that will drop as much as 10 inches along the coast.
Bill's winds were 60 miles (97 kilometers) per hour, up from 50 mph earlier, the National Weather Service said in a statement at 12:26 p.m. New York time. The system was about 20 miles south-southwest of Port O'Conner, moving west-northwest at 9 mph.
"The greatest concern or impact from Bill is expected to be very heavy rainfall," the agency said. "The heaviest rainfall will generally be north and west of the circulation."
A tropical storm warning was posted from Baffin Bay to High Island. Bill's storm-strength winds reached out 150 miles from its center.
At least 122 flights were delayed and 98 canceled at Houston George Bush Intercontinental Airport as of 12:40 p.m. local time, said FlightAware, a tracking service.
Bill's power will wane over land.
"Weakening is forecast after the center moves inland later today, and Bill is expected to weaken to a tropical depression tonight," Senior Hurricane Specialist Stacy Stewart of the National Hurricane Center wrote in an 11 a.m. advisory.
The storm, which prompted some energy companies to evacuate non-essential personnel from operations in the Gulf of Mexico, is forecast to cause flooding across much of eastern Texas and then through the central U.S. as it moves northward.
Rain Forecast
Bill, the second named storm of the six-month Atlantic hurricane season that began June 1, is forecast to bring as much as 8 inches (20 centimeters) of rain to eastern Texas, with some places getting 10. Two to 4 inches may fall in Oklahoma, western Louisiana and western Arkansas.
Tides in eastern Texas may rise 2 to 4 feet above normal.
Texas opened its State Operations Center to deal with the storm, Governor Greg Abbott said on his website. Dallas will open its emergency center at 6 p.m. Tuesday.
"The main thing is just going to be the flooding rainfall that we are going to see," said Alan Reppart, a meteorologist at commercial forecaster AccuWeather Inc. in State College, Pennsylvania.
Houston, which was inundated by storms in May, is forecast to receive an additional round of flooding rain.
Roads were closed and 2,516 homes, as well as 73 commercial buildings, were damaged by floods in Houston last month, according to the Harris County Regional Joint Information Center. At least 31 people died across Texas and Oklahoma, the Weather Channel said.
Flood Alerts
The storm's impact may reach far beyond Texas. Flood warnings and advisories stretch all the way to Illinois.
Rain from the remnants of Bill could cause flooding on the Red River in Texas, Oklahoma and Louisiana, as well as on the Mississippi near Cairo, Illinois, said Jeff Graschel, service coordination hydrologist with the Lower Mississippi River Forecast Center in Slidell, Louisiana.
The Red River in Shreveport just fell below the major flooding stage on Monday.
At the confluence of the Mississippi and Ohio rivers, farm fields lie within the levee system, and high water there could cause problems for farmers, he said.
Energy Impact
Gulf storms are watched closely by energy markets because offshore platforms in federal waters account for 17 percent of U.S. crude oil output and 4 percent of natural gas production, according to the Energy Department. More than 45 percent of U.S. refining capacity and 51 percent of gas-processing capacity is located along the Gulf coast.
Monday, Royal Dutch Shell Plc removed some non-essential workers from the Gulf, although the company didn't expect the weather to affect operations, Ray Fisher, a Shell spokesman, said in an e-mail.
Lafayette, Louisiana-based helicopter company PHI Inc. evacuated workers from some oil platforms in the western Gulf at the request of its customers, Chief Administrative Officer Richard Rovinelli said in an e-mail. He declined to identify the operators or say how many workers were moved.
The Houston ship channel was closed, along with the waterway from Matagorda Bay to Galveston Bay.
Producers will likely avoid significant losses in output as a result of the storm because the system is in the western Gulf, said Andy Lipow, president of Lipow Oil Associates in Houston.
"And 90 percent of the oil and gas production is south and east of New Orleans, so there is very little in Texas waters," he said.
In the Pacific, Hurricane Carlos, with top winds of 75 mph, was about 105 miles south of Manzanillo, Mexico, the hurricane center said. The storm is forecast to weaken gradually during the next few days.
Before it's here, it's on the Bloomberg Terminal.
LEARN MORE