Rupert Murdoch Will Hand Fox CEO Title to Son James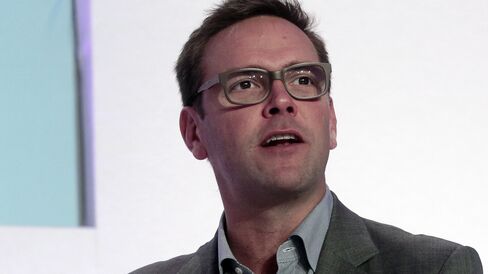 Rupert Murdoch is stepping down as chief executive officer of 21st Century Fox Inc. and handing the title to his son James, marking a long-awaited generational succession.
The elder Murdoch will be executive co-chairman along with his other son, Lachlan, Fox said Tuesday. The corporate functions and the global television and film operations will now jointly report to James, 42, and Lachlan, 43. Chief Operating Officer Chase Carey will become the executive vice chairman and stay in that role through June 30 next year.
The changes, which take effect July 1, confirm last week's reports that the 84-year-old media billionaire was setting in motion a handing over of power to his sons, a year after promoting them. It's also a comeback for James, whose ascent was slowed by a phone hacking scandal in the U.K. four years ago. Meanwhile, Carey's plan to stay 12 more months will reassure shareholders.
"It is important to investors that Chase stay for at least a year to ensure a smooth transition," said Paul Sweeney, a media analyst at Bloomberg Intelligence.
Carey is open to staying on the Fox board past 2016, according to a company insider who asked not to be identified. Fox has no plans to replace him in the roles of president or chief operating officer, the person said.
While James was named CEO, Fox also highlighted Lachlan's role as executive co-chairman, suggesting they will govern as a team.
Ailes Role
"Lachlan and James are each talented and accomplished executives," their father said in the statement. "Together, we, as shareholders and partners, will strive to take our company to new levels of growth and opportunity."
Roger Ailes, CEO of Fox News, the most watched U.S. cable news channel, will report to Lachlan and James, Fox said in an e-mail. While he will no longer report to Rupert Murdoch, the two will continue their close relationship, the company said.
Ailes told Variety last week he expected to continue reporting to Rupert Murdoch.
The Murdochs control Fox, which owns film, cable and broadcast businesses, through a family trust, as well as News Corp., owner of the Wall Street Journal. The two companies were separated in 2013.
Fox shares have dropped 16 percent this year, while News Corp. fell 9.5 percent.
Before it's here, it's on the Bloomberg Terminal.
LEARN MORE