RBS's Global Retreat Said to Force Shell to Look for Other Banks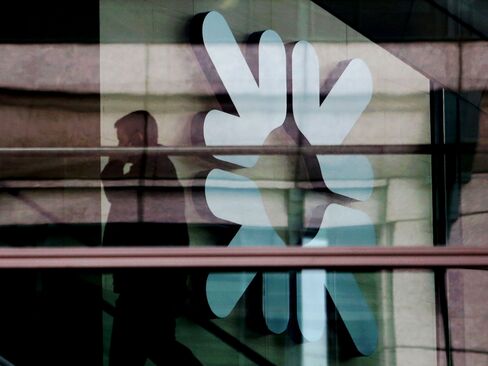 Royal Bank of Scotland Group Plc's retreat from commercial banking worldwide is forcing companies including Royal Dutch Shell Plc to seek others to manage their cash, according to three people with knowledge of the matter.
The world's second-biggest oil company by sales is among clients of RBS's cash-management unit trying to find other banks to provide checking accounts and process payments as the lender exits the business outside the U.K. and Ireland, said the people, who asked not to be identified because the talks are private. Officials at RBS and Shell declined to comment.
RBS Chief Executive Officer Ross McEwan, 57, is seeking to reverse seven annual losses by focusing on U.K. consumer and commercial banking and shrinking the investment bank as the government prepares to sell its stake after a 45.5 billion-pound ($71 billion) bailout. The cash management operation, which is part of the securities division, isn't considered "essential" because it doesn't meet the lender's profitability targets, according to the CEO.
"RBS is losing their overseas customers as big companies simply can't get the services they need outside of the U.K.," said Stephen Baseby, associate policy and technical director at the London-based Association of Corporate Treasurers. "RBS is paying for what they did in the financial crisis."
Barclays, ANZ
While less glamorous than investment banking, the nuts-and-bolts business of providing clients with checking accounts and managing their transactions gives lenders such as RBS a bridgehead to sell corporate customers more lucrative products such as derivatives. Global companies rarely change their cash-management provider because of the complexity and depth of the connections they establish with their bank.
Barclays Plc, Deutsche Bank AG, JPMorgan Chase & Co. and Australia & New Zealand Banking Group Ltd. are among lenders that are lining up to woo former RBS clients, according to separate people with knowledge of the matter. One European competitor has already formed a working committee to coordinate its efforts, two of the people said.
With Shell, RBS is losing the biggest company in Britain's FTSE 100 Index by market value. The firm, which generated sales of $421 billion and profit adjusted for one-time items and inventory changes of $19 billion last year, has operations in more than 70 countries from Malaysia to Brazil.
Shell may still use RBS for other services: most recently, the bank was part of a group of 19 lenders that provided $15 billion of financing in May for the oil company's $70 billion takeover of BG Group Plc.
Goodwin Ambitions
RBS doesn't disclose how much money it makes from its cash-management business. Revenue at the wider global transaction-services unit slipped to 818 million pounds in 2014 from 881 million pounds a year earlier.
McEwan is withdrawing from one of the key assets RBS was targeting in its takeover of ABN Amro Holding NV, the deal that helped precipitate the collapse of the Scottish bank. RBS said at the time the combination would help it add large European and U.S. clients and make it one of the world's top five global cash management providers -- up from 28th place before.
RBS's ambitions under former CEO Fred Goodwin were thwarted by the biggest banking bailout in history. Since taking over in 2013, McEwan has accelerated plans to cut the number of countries in which RBS operates and shrink its whole corporate and institutional banking operation. The CEO is cutting back from 38 countries to 13 to focus on U.K. clients.
The bank is "working with our impacted clients to support them in their transition arrangements," an RBS spokeswoman said.
Market Share
Carole Berndt left earlier this year as head of RBS's global transaction services business, which includes the cash-management operation, to join ANZ, after a review ordered by McEwan found her unit wasn't profitable enough and should be cut back, a person familiar with the matter has said.
Global transaction services is now run by Marc Townsend, formerly head of markets at RBS's capital resolution group, the division that sells the firm's unwanted assets.
Stephen Ries, a spokesman for ANZ, declined to comment on Berndt's behalf. Townsend also declined to comment.
RBS is already losing market share. The Edinburgh-based bank was the ninth-ranked international cash-management provider in a Euromoney survey of 28,000 corporate treasurers last year. It has fallen from the second-ranked arranger of European syndicated loans and fourth-placed bond house in Europe in 2009 to the ninth and 13th positions respectively last year, according to data compiled by Bloomberg.
"It's more of an issue for large companies," Baseby said. "One would still call RBS for a bond or a loan deal in London, but they won't be working with them on anything foreign."
Before it's here, it's on the Bloomberg Terminal.
LEARN MORE