RBA Restates Need for Aussie Drop as Growth Below Average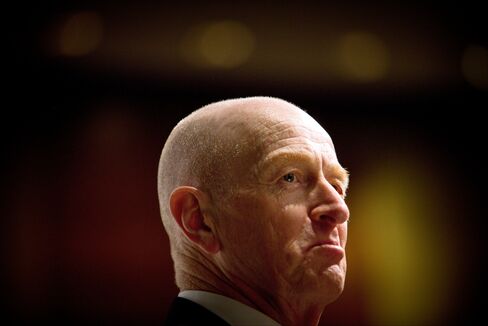 Australia's central bank reiterated the need for deeper currency declines to balance economic growth that's predicted to remain below average until the latter part of 2016.
"A lower exchange rate would have an immediate beneficial effect on some sectors such as tourism," the Reserve Bank said in minutes of its June policy meeting in Sydney Tuesday. "It would need to be lower for a sustained period to have a significant effect on large investment decisions in other trade-exposed sectors."
Governor Glenn Stevens reinstated an explicit easing bias last week to support growth even after two interest-rate cuts this year brought the benchmark to a record-low 2 percent. While employment improved in May, policy makers have been frustrated by the currency's failure to reflect declines in commodity prices as China's economy slowed.
"The board's assessment was that the stance of monetary policy should be accommodative," the central bank said. "Output growth had continued at a below-trend pace over the past year and would remain a little below trend in the period ahead before picking up to around trend in the latter part of 2016."
The economy recorded growth of 2.3 percent in the first quarter from a year earlier, below its 30-year average of 3.3 percent and its estimated potential of about 3 percent.
Mild Easing Bias
"A mild easing bias remains intact," said Su-Lin Ong, head of Australian economic and fixed-income strategy at Royal Bank of Canada in Sydney. The RBA wants "to keep maximum downward pressure on the currency."
Traders are pricing in 15 basis points of rate cuts in the next 12 months, or less than a quarter-point reduction. The local dollar has fallen more than 3 percent in the past month against its U.S. counterpart and was little changed at 77.60 U.S. cents at 12:42 p.m. in Sydney after the minutes.
The currency "continued to offer less assistance than would normally be expected in achieving balanced growth in the economy," the Reserve Bank of Australia said. "A further depreciation therefore seemed both likely and necessary, particularly given the significant declines in commodity prices over the past year."
Policy makers predicted in the minutes that Treasurer Joe Hockey's budget stimulus program for small firms would boost business confidence, which subsequent private data confirmed, while noting the government's wider deficit than predicted six months earlier was in line with the central bank's forecasts.
The RBA noted that wage growth was weak in the first three months of the year, and that inflation was likely to remain contained.
For more, read this QuickTake: Currency Wars
Before it's here, it's on the Bloomberg Terminal.
LEARN MORE