Putin's Economic Aides Worry About What He Won't Tell Investors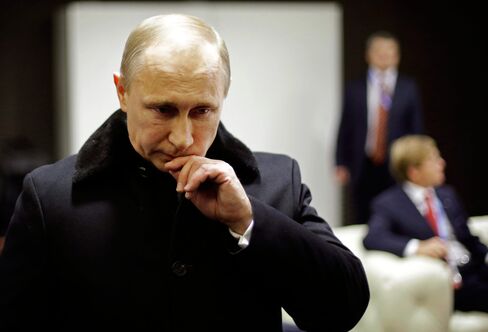 Vladimir Putin's economic team is more worried about what he won't say this week than what he will.
Absent from the president's annual address to investors at the St. Petersburg International Economic Forum will be any mention of meaningful initiatives to pull Russia out of recession, curtail corruption or strengthen property rights, according to four people familiar with the matter.
With parliamentary elections due in the next 18 months and his own possible re-election a little more than a year later, Putin is hunkering down and playing for time, the people said, asking not to be identified discussing internal issues. He's rejecting major economic proposals and waiting for the central bank to replenish its reserves so he has a cushion to support his growing geopolitical ambitions, including in Ukraine, where a pro-Russian rebellion continues to smolder, they said.
"We're in for a long stretch of lethargy and apathy in domestic policy," said Andrey Kolesnikov, a senior associate at the Carnegie Moscow Center. "Putin likes to move armies and borders, but he's not interested in the economy. He's the only one who can make a decision, so no decision will be made."
Putin's spokesman, Dmitry Peskov, said on a conference call with reporters today that "colleagues from Bloomberg are mistaken" about the planned remarks. He didn't elaborate.
When it comes to finances, what Putin seems to care about as much as anything else is the size of his war chest.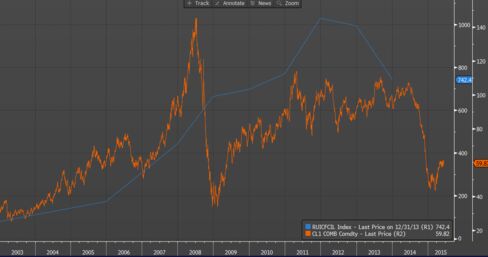 Mixed Signals
The most significant initiative announced by authorities in recent months is the Bank of Russia's intention to grow its reserves from $363 billion to a "comfortable" $500 billion over the next five to seven years, about where they were when Putin annexed Crimea in March 2014.
The new policy has confused investors because it requires the central bank to sell rubles on the market, which contradicts its stated policy of allowing the currency to trade freely, said former central bank Deputy Governor Oleg Vyugin, who is now chairman of MDM Bank in Moscow.
"The central bank has abruptly changed its strategy, but it isn't clear what for," Vyugin said in an interview.
After 15 years in power, Putin, 62, has become a master of mixed signals designed to appeal to his domestic audience while keeping foreign opponents guessing about his true intentions.
'Entrepreneurial Freedom'
At last year's forum, which was held in May, just days before Ukraine held snap elections to replace its deposed president, Putin said he'd accept the winner in the interest of peace, sparking a rally in ruble assets. He also said, though, that his ousted ally was still Ukraine's legitimate leader and that any new presidential term would be short-lived. Fewer than 130 people had died in the conflict at the time. Now the death toll stands at 6,400 and continues to climb almost daily.
This year, Putin will probably use his keynote speech to deliver a politically neutral message to avoid further flaming tensions with the U.S. and its allies, the people said. He'll also seek to reassure his compatriots that the worst of the fallout from sanctions and lower oil prices are over and that Russia has emerged stronger than before, they said.
That kind of patriotic talk isn't what business owners such as billionaire Roman Avdeev say they want to hear.
"Structural reforms are the main issue for the economy, not oil, not sanctions," Avdeev, who controls Credit Bank of Moscow, said by phone last week. "We need to increase competition, reduce corruption and release the force of entrepreneurial freedom."
'Unmanageable' Commitments
Officials may be echoing Putin's line about the economy turning the corner, but they're still preparing for a deeper and more protracted slump.
The economy may shrink for two years in a row for the first time under Putin if oil stays at $60 through 2016, the central bank says. With inflation at 15.8 percent, the regulator sees little room to lower borrowing costs further after cutting its key rate four times, to 11.5 percent, since December's emergency increase to 17 percent.
Further budgetary stimulus is also off the table, according to the Finance Ministry, which is trying to limit the biggest deficit in five years amid the country's largest military buildup in a generation.
The commitments Russia took on when oil was $100 a barrel are now "unmanageable," minister Anton Siluanov said June 5.
A surge in foreign investment could help solve many of the economy's woes, but economists say there's little hope of that happening soon, given the current standoff over Ukraine.
The St. Petersburg forum was originally designed as a welcoming point of entry for western companies, but it's now less about attracting new investors than it is about keeping those already here to show that Russia's not completely isolated, according to the people familiar with the matter.
Status Quo
One initiative that Putin may announce involves an offer to co-finance projects with foreign companies, though exactly how such a program would work isn't clear, the people said. Putin may also voice support for a free trade area in the Pacific region and encourage investment in Russia's Far East, far away from major population centers, they said.
Yuri Ushakov, a presidential adviser on foreign affairs, said Putin's speech will focus on "economic issues," while questions related to international affairs will be answered during panel discussions.
Whatever Putin ends up saying, it won't be anything overtly negative or controversial, according to Vladimir Tikhomirov, chief economist at BCS Financial Group.
"He'll find positive words to say, but they won't have a real impact on the market or investor activity," Tikhomirov said by phone from Moscow.
Read this next:
Before it's here, it's on the Bloomberg Terminal.
LEARN MORE