Palestinian Unity Government to Break Up, Abbas Aide Says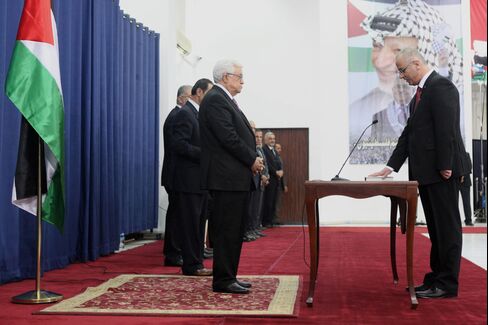 The Palestinian unity government formed a year ago after reconciliation between the rival Fatah and Hamas factions is about to quit, according to a senior aide to President Mahmoud Abbas.
The administration will resign within 24 hours, the aide said late Tuesday, asking not to be identified because the decision hasn't been announced. Prime Minister Rami Hamdallah will stay in his post and form a new government, the aide said, without giving a reason for the move. Abbas and Hamdallah are to meet Wednesday afternoon in Ramallah, according to a government e-mail.
Abbas presided over the creation of the government in June last year, after an agreement to end a seven-year split between Hamas, which controls the Gaza Strip, and his Fatah group that governs the West Bank. There have been tensions between the groups over issues including extending the unity government's sway over Gaza.
Abbas's decision to dismantle the alliance may have been triggered by reports that Hamas has begun negotiations with Qatar on a long-term truce with Israel, according to Naji Shurab, professor of political science at Gaza's al-Azhar University. Qatar is aiding Gaza's reconstruction from the damage done during Hamas's military conflict with Israel last summer.
Sending Message
"If Hamas started talks with Qatar without first consulting Abbas, than this news could be his way of sending a message to them," Shurab said. "Abbas wants to remind Hamas that he is the Palestinians' main conduit to the international community."
Hamas refuses to recognize Israel and fought three wars with the Jewish state in six years. It's considered a terrorist movement by Israel, the U.S. and the European Union. Fatah heads the Ramallah government that conducted peace talks with Israel before they broke down last year.
A move by Abbas to dismantle the unity government would represent a "breakdown of the internal reconciliation and a violation of the national consensus," Salah el-Bardaweel, a senior Hamas leader, said by phone.
Before it's here, it's on the Bloomberg Terminal.
LEARN MORE