London's Tech Boom Curtailed by Sky-High Rents, Jowell Says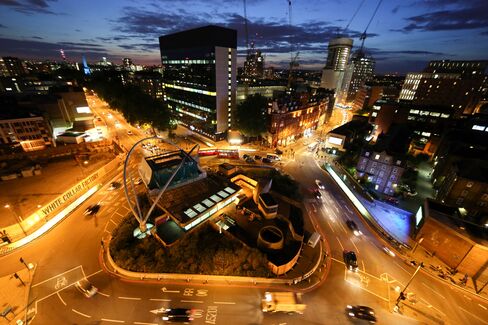 London's prospects as a digital hub are being hurt by skill shortages and soaring real-estate costs, according to Labour Party mayoral hopeful Tessa Jowell.
"There are serious barriers to London's growth in tech," the former minister said at a London Technology Week event. "One of them is lack of affordable space in setting up digital businesses."
Jowell said London's computer startups were growing: "We like to think we're closing in on New York and San Francisco." Still, the city needed to bring schools and businesses together and improve broadband speeds, which were "some of the worst in the country."
Central London office rents will climb the most since 2000 this year, BNP Paribas SA's real estate unit said in February.
Jowell, who wants to stand in next year's election for Boris Johnson's successor, was speaking at an event on the topic of creative workspaces in Bloomberg's London headquarters.
"While technology makes it possible to work and collaborate over long distances, clustering and physical proximity matter more than ever," Rohan Silva, the co-founder of Second Home, which provides open-design workspace for small companies, said at the event. "If we were to create more spaces where different ideas collide, London would be all the better for it."
Londoners are paying record rents when they change homes in the city, already more than double the average for the rest of the U.K., HomeLet, the U.K's largest reference-checking and rentals insurance company said on June 15. The average rent for a new lease home was 1,506 pounds ($2,333) a month in May, it said.
Read this next:

Before it's here, it's on the Bloomberg Terminal.
LEARN MORE