Kuroda Says He Wasn't Trying to Influence Yen Exchange Rate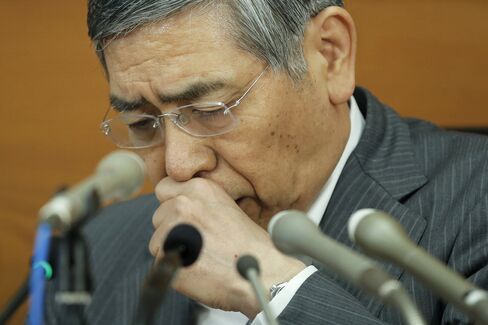 Bank of Japan Governor Haruhiko Kuroda said he wasn't trying to influence the yen's exchange rate in remarks last week that sent the currency climbing against the dollar.
Kuroda last week said in a parliamentary hearing that the yen was "unlikely to weaken further in real effective terms." Today, he said that the real effective rate -- which is a measure of the yen's trade-weighted, inflation-adjusted value -- isn't an indicator of bilateral exchange rates. He also said Tuesday that he wasn't intending to say he's not seeking a weaker yen.
The BOJ governor's remarks from last week were perceived by some analysts to lessen the case for additional monetary easing, because further Japanese stimulus would typically weaken the yen. They were also regarded as unusual because policy makers usually limit their assessments of exchange rates to comments on the pace of change, rather than the value.
"I didn't mean to evaluate the current nominal exchange rate or forecast the outlook," Kuroda said in parliament today of his remarks last week. "I just gave a theoretical explanation in response to a question about real effective rates."
Even with today's clarification, the yen remains stronger than it was before Kuroda's remarks. There had been other signs that Japanese officials weren't happy with the pace of the yen's drop against the dollar in recent weeks, before the governor spoke at the Diet last Wednesday. The economy minister had said June 9 that "abrupt" moves weren't good, and the finance minister had cited "rough" moves in the currency.
Comment Clarification
"He didn't retract his comments from last week - he just clarified what he wanted to say about real effective exchange rates," said Masaki Kuwahara, an economist at Nomura Holdings Inc. "Still, it's unlikely that Kuroda made the remarks on the yen last week without expecting any reaction in the markets. He probably wanted to stop a rapid weakening of the yen as he thinks it's undesirable."
The real effective exchange rate is a difficult concept, and it isn't useful for monetary policy, Kuroda said today. It's hard to predict the economy or currency moves from the rate, he said.
"I didn't say that I'm not seeking a weak yen in nominal terms, nor did I say that it's unlikely that the yen will fall further," Kuroda said on Tuesday.
Stable Yen
The yen's real effective rate against a basket of 61 currencies in December reached its lowest level since the mid-1970s, before rebounding 4 percent at the end of April, according to the most recent data from the Bank of Japan.
Kuroda, a former head of currency policy at the Finance Ministry, today said that it's desirable for exchange rates to move in a stable manner, and to reflect economic fundamentals. He noted that a cheaper yen helps exporters while weighing on Japanese households, whose purchasing power is impaired.
How weak the yen becomes is a political issue both within Japan and, potentially, within some quarters of the U.S., where lawmakers historically have criticized American trading partners considered to be seeking a cheaper exchange rate for trade gains. Japan is currently engaged in talks with the U.S. to create a regional trade group; President Barack Obama still needs to persuade American lawmakers of the benefits of the Trans Pacific Partnership.
Yen Outlook
While the yen's depreciation has stoked record profits among exporters, importers and smaller companies have suffered. The head of one of Japan's biggest business lobbies said in April that the currency had dropped enough, and advocated against expanded BOJ stimulus.
Many currency analysts see the yen depreciating further, regardless of Kuroda's remarks. The median estimate among forecasters surveyed by Bloomberg is for the yen to slip to 126 per dollar in the first quarter of 2016.
The yen fell as much as 0.3 percent against the dollar after Kuroda's remarks today, before trading 0.1 percent lower at 123.57 as of 12:53 p.m. in Tokyo.
Kuroda noted today that monetary policy affects exchange rates. He said that it's hard to tell whether the dollar would appreciate -- and yen depreciate -- should the Federal Reserve raise interest rates. On June 10, he said that it can't be assumed that the yen would weaken on a Fed rate increase.
Before it's here, it's on the Bloomberg Terminal.
LEARN MORE