Kahlon Plan to Cut Israel Home Prices Seen as Inadequate to Task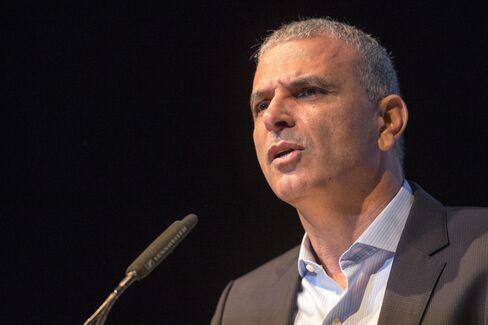 Israeli Finance Minister Moshe Kahlon's proposals to suppress demand and increase supply may not be enough to bring down surging home prices.
Kahlon, who's staked his political reputation on tackling Israel's housing crisis, has proposed higher taxes on investment homes in a bid to tamp down demand. On the supply side, he's recommended rezoning land for residential construction and cutting some land prices. Some analysts say he should have taken more ambitious steps to boost supply; others predict the taxes on investment homes will backfire.
The EST-15 index of the top 15 real estate companies traded in Tel Aviv has risen less than 1 percent since the steps were announced on June 10. Israel's largest traded residential real estate company, Africa Israel Residences Ltd., has climbed about 23 percent this year, after falling more than 18 percent last year.
"I'm pretty skeptical," said Yaniv Pagot, chief strategist at Ayalon Group Ltd. in Ramat Gan. "There is a shortage of 70,000 to 100,000 apartments. As long as you don't close the gap, you're fooling yourself."
Fueled by low interest rates, home prices have soared more than 90 percent since 2007 while the average annual wage, now about $30,000, has risen about 26 percent. Before taking office, Kahlon said his top priority would be cutting housing costs.
Supply Bottleneck
Asked to comment on criticism of Kahlon's plan, the Finance Ministry said in an e-mail that the proposals offer "significant measures on the supply side alongside steps to tame investment demand."
Supply is short in part because the government owns 93 percent of the country's land, and construction programs become bogged down in bureaucracy. Kahlon's proposal to discount some land for construction, on condition contractors pass on the savings to consumers, will both create more bureaucracy and invite corruption, said Michael Sarel, a former Finance Ministry chief economist.
Higher purchase taxes for investors will cut the number of apartments available for rental, forcing more people to buy, Sarel said. "It won't lower demand and it won't bring down prices," he said.
Sixty-four percent of Israelis own one apartment, and 8 percent own two or more, according to Finance Ministry figures presented to parliament's finance committee on Wednesday.
Adar Etzioni, an analyst at Excellence Nessuah Broker Services Ltd. in Petach Tikva, predicted home sales would climb before the taxes do. This is already priced into the stock market, "and I don't see significant drops" after the rise, he said.
Pent-Up Demand
Under Prime Minister Benjamin Netanyahu's previous government, then-Finance Minister Yair Lapid proposed to bring down housing costs by canceling the 18 percent value-added tax on apartments for qualifying home buyers. The plan, which critics said would boost demand, was scrapped after parliament was dissolved in December.
Buyers who had waited for that tax break came back into the market. Home sales rose 13 percent in the first quarter, and new mortgages jumped in May to 5.8 billion shekels ($1.5 billion) from 4.7 billion shekels in April.
Prices will probably increase by about 5 percent this year, as they have annually in the last year or two, said Leo Leiderman, chief economic adviser at Bank Hapoalim Ltd. While higher taxes may curb demand, prices will keep going up because of low interest rates and a growing population, he said.
"We expect a continuation of an excess demand in the housing market, and if there is excess demand, prices will continue to rise," Leiderman said.
Before it's here, it's on the Bloomberg Terminal.
LEARN MORE