Decision Time for Hong Kong as Lawmakers Weigh China's Vote Plan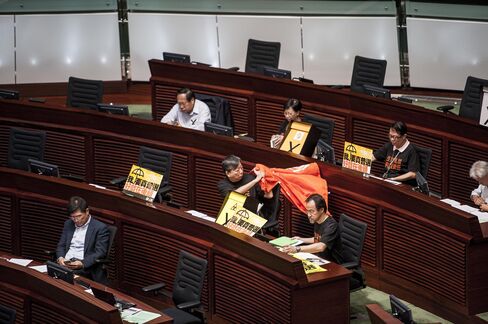 Almost eight months after protesters occupied Hong Kong streets in a fight for democracy that captured world attention, lawmakers are finally tackling a China-backed proposal to decide the city's political future.
Hong Kong Chief Secretary Carrie Lam opened debate in the Legislative Council on Wednesday by urging lawmakers to pass the bill to govern the city's first direct chief executive election in 2017. Democratic lawmakers have so far remain united against the measure, which would give a committee of local elites the power to screen candidates, and members on both sides have predicted its defeat.
"What you are deciding today is not just one among the 10,000 documents that come before you," Lam told lawmakers. "What you choose today will determine whether five million people will have right to vote."
Chief Executive Leung Chun-ying needs at least four of 27 pro-democratic lawmakers to support a proposal that brought thousands of protesters into the streets for three months last year. While the student-led occupation plunged the Asian financial hub into the worst political crisis since returning to Chinese sovereignty in 1997, demonstrators ultimately failed to convince the Communist Party to allow fully free elections.
The plan's defeat would deepen a divide in the legislature that has stalled bills and delayed this year's budget by six weeks. Passing it could trigger further unrest with some leaders of last year's protests pledging a return to the streets, although recent rallies have been smaller.
Advocates from both sides gathered under the searing sun outside the legislative chamber on Wednesday, waving banners and shouting slogans. At one point, proponents of the measure blared the Chinese national anthem while opponents tried to drown it out with "Raise Your Umbrella," an anthem of last year's so-called Umbrella Movement protests.
Stagnation Risk
Some in Hong Kong's international business community fret that too little has been done to address the sense of disenfranchisement that brought more than 100,000 protesters out at the height of the Occupy Central movement.
"People have developed a perception that the system is biased against the small guy and in favor of the big guy and that didn't used to be the case," said Paul Serfaty, a director of Asian Capital Partners Group, an investment bank that specializes in mergers and acquisitions.
Some of Hong Kong's middle class have been shut out of the city's economic gains as rising asset prices made Hong Kong home to the highest concentration of multimillionaires of any city on earth. Around half of Hong Kong workers earn less than HK$14,000 ($1,800) a month, and 7.7 percent less than HK$5,000, according to government figures. Almost half of the population lives in public or subsidized housing.
Income Inequality
If the issues that concern young people -- rising income inequality and a perception the city is being taken over by the mainland Chinese -- "the risk for Hong Kong is that it enters a slow period of stagnation, barely noticed year to year, but betraying its potential," said Serfaty, a Hong Kong resident since 1988.
Lawmakers who support the proposal say China would always have control over the nomination of chief executive candidates under the "One Country, Two Systems" framework outlined by paramount leader Deng Xiaoping in the 1980s.
"Basically you can say, the one country controls the nominating process, and 7 million Hong Kong people control the electoral process," Michael Tien, a lawmaker and deputy chairman of the pro-government New People's Party, told Bloomberg Television on Wednesday. He said that because Hong Kong's constitution calls for candidates to be selected by a nominating committee, lawmakers should focus on improving its composition.
Tensions have been mounting in the run-up to the vote. The police stationed 200 officers inside the Legislative Council building Wednesday to deter potential protesters, the South China Morning Post reported.
Guy Fawkes
Ten people were also arrested in connection with a plot to make explosives, with at least one claiming to be a member of a "local radical group," police said. The suspects had masks of Guy Fawkes, who led a failed plot to blow up the English parliament in 1605 and is a symbol of anti-establishment protesters.
The city remains split over the plan. According to a daily tracking poll conducted by three local universities, 44.9 percent supported the measure as of June 12, with 40.9 percent opposing it.
Even if pro-democratic lawmakers succeed in blocking the plan -- which would mean the 2017 chief executive is again selected by a committee rather than voters -- tensions in the legislature are likely to persist given the lawmakers say Leung lacks a popular mandate. That would risk slowing Leung's agenda further. In February he blamed the pan-democratic camp for filibustering to hinder pending legislation.
'Very Difficult'
For more, read this QuickTake: Hong Kong's Autonomy
Regina Ip -- chairwoman of the New People's Party, which backs the plan -- predicted opposition lawmakers would increase delaying tactics that held up this year's budget, complicating the rest of Leung's five-year term.
Emily Lau, chairwoman of Hong Kong's Democratic Party, disputed that contention.
"Most of us look at the legislation and proposals on their merits," Lau said in a Bloomberg Television interview. Lau expects the reform package to be rejected: "It's going to be a very sad day for Hong Kong. Hong Kong has been striving for universal suffrage for decades."
Before it's here, it's on the Bloomberg Terminal.
LEARN MORE