Hank Greenberg Won Ruling on AIG Bailout, Will Appeal Anyway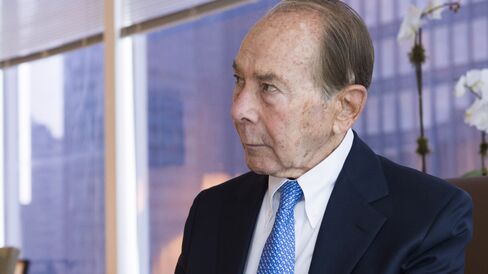 For Hank Greenberg, vindication isn't enough.
Despite a victory against the federal government Monday in a six-year fight over the bailout of American International Group Inc., his Starr International Co. announced Tuesday it will appeal the verdict because it wasn't awarded any money as part of the judgment. Starr said it disagreed with the court's conclusion that there's no remedy for the government's illegal conduct.
The terms of an $85 billion rescue loan given to AIG in the midst of the 2008 financial crisis were illegal, a federal judge in Washington ruled Monday, siding with Starr in a lawsuit on behalf of AIG shareholders. But investors would have been worse off if the government did nothing, the judge found, and awarded not a penny, though Starr sought as much as $40 billion.
Starr said it will appeal those findings, arguing the government shouldn't be allowed to "keep billions of dollars of citizens' money in its pocket."
Dennis Kelleher, head of the financial advocacy group Better Markets, said Tuesday "AIG shareholders wouldn't exist today and wouldn't own almost $90 billion in stock today but for the generosity of those very 'citizens.'"
"Hopefully, the federal appeal court will correctly determine that there would be no justice if U.S. citizens were required to give those shareholders another undeserved windfall," Kelleher said in an e-mailed statement.
The Justice Department has not said whether it will appeal the decision.
Jon Diat, a spokesman for New York-based AIG, declined to comment on Starr's statement.
2011 Suit
Starr sued the U.S. in November 2011, claiming the government broke the law by insisting on 80 percent of AIG stock and imposing a 12 percent interest rate on the loan. Wheeler agreed, saying that while the Fed had authority to make an emergency loan to AIG, it didn't have the authority to take shares in exchange for it.
The government countered the demands were justified since the loan was high-risk. As evidence, government lawyers cited similar terms in a private rescue that fell through over doubts about AIG's ability to repay.
Despite the lack of a damages award, U.S. Court of Claims Judge Thomas Wheeler's ruling Monday was seen as a dramatic rebuke of the government's rescue plan that could limit future actions in a crisis.
The case is Starr International Co. v. U.S., 11-cv-00779, U.S. Court of Federal Claims (Washington).
Before it's here, it's on the Bloomberg Terminal.
LEARN MORE