Falling Asian Exports Have India Producers Banking on Yellen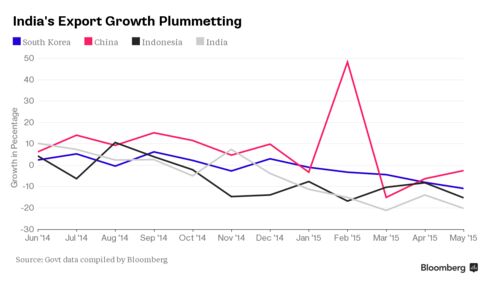 Count Indian exporters among those closely watching Federal Reserve Chair Janet Yellen this week.
India's overseas sales are falling more steeply than many other Asian countries, dragged down both by oil prices and weak demand in developed economies other than the U.S., its biggest export market. The 20 percent drop in May marked the longest monthly losing streak since 2009.
A quick recovery hinges at least in part on the Federal Reserve's policy choices. Tighten at the right speed and global demand improves; go too fast and the pain is prolonged, as the International Monetary Fund warned this month.
"Global growth has an impact on exports," said Samiran Chakraborty, an economist at Standard Chartered Plc in Mumbai. "While the Fed is unlikely to raise rates until they're confident of the domestic economy, what would be crucial for demand is guidance on how fast they'll raise rates and what they'll set as the terminal rate."
Across Asia, the picture for exports is mixed. Steep falls in the value of shipments from countries such as Indonesia, Australia and South Korea has been blamed on slumping commodities prices. A labor dispute at West Coast U.S. ports has also affected the data.
Weak demand is also playing a role. Sluggish economies in Europe and Japan have hurt Chinese exports, which have also been hit hard by the strong yuan.
World trade will grow just 1.8 percent in 2015, a pace "more normally associated with recessions," Adam Slater, lead economist at Oxford Economics Ltd. in London, wrote in a report.
Crude Collapse
"All of those trade numbers are massively distorted by the collapse we have had in commodity prices," Klaus Baader, chief Asia Pacific economist at Societe Generale SA in Hong Kong. "Weakness of exports is certainly not a pan-Asian story."
Among the bright spots, Japanese exports are starting to pick up, beating expectations with an 8 percent increase in April. Exports from Southeast Asia to the U.S. are also improving, Baader said, adding that temporary factors "suggest that weakness in Asian exports is likely to be transitory."
The World Bank on June 11 lowered its forecast for U.S. growth this year to 2.7 percent, from 3.2 percent in January; India is forecast to expand 7.5 percent. Kaushik Basu, the bank's chief economist, said he expects the Fed to begin raising rates this year despite his recommendation.
Indian central bank Governor Raghuram Rajan has called for greater coordination of global monetary policy and warned that borrowing in dollars was like playing "Russian roulette." This period of slow global growth is "particularly dangerous" as it makes it more likely that countries will attempt to divert growth from others, he said on June 11 in Bangladesh.
Rajan Reserves
Since taking office in September 2013, Rajan has built up India's foreign-exchange reserves by about 29 percent to a record $354 billion in May. India saw the rupee weaken to a record low in 2013 after the Fed first signaled it would start withdrawing its unprecedented monetary stimulus.
India is becoming more reliant on the U.S. for exports. Americans bought 13.7 percent of India's overseas shipments in the 12 months through March 31, the largest share since 2008.
India's exports fell for a sixth straight month in May, dragged down by a 59 percent plunge in overseas sales of petroleum products, government data showed Tuesday. While lower oil prices benefit India because crude accounts for about 37 percent of imports, they also damp revenues as petroleum products account for a fifth of exports.
India's central bank estimates that the rupee was about 12 percent overvalued last month when compared to the currencies in its main export markets, hurting its competitiveness.
Fed Meeting
Yellen and other policy makers began a two-day meeting on Tuesday to discuss the path of monetary policy. There's almost no chance they will increase their rate target, which has been left at zero to 0.25 percent since 2008, according to a Bloomberg survey of economists.
Still, it's unlikely that overall Asian exports will accelerate rapidly any time soon given the ongoing sluggishness in big developed markets.
"High value added consumption and corporate capex, both of which need to fire to underpin Asian exports, remain the missing expenditure classes from the global economy at this stage," said Glenn Maguire, a Singapore-based economist at Australia & New Zealand Banking Group Ltd.
Before it's here, it's on the Bloomberg Terminal.
LEARN MORE