European Car Sales Rise 1.4% in Slowest Growth in Six Months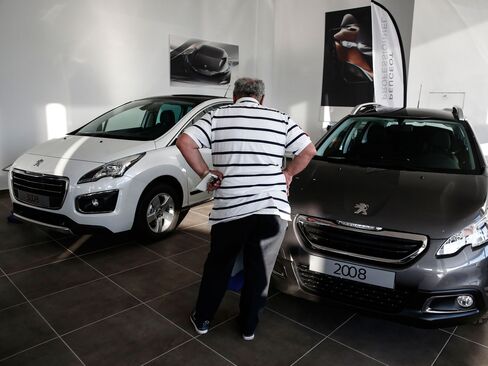 European car sales rose at the slowest pace in six months in May as buyers' concerns about unemployment and the Greek sovereign debt crisis held back demand at Volkswagen AG and Renault SA.
Registrations increased 1.4 percent to 1.15 million vehicles from 1.14 million a year earlier, the Brussels-based European Automobile Manufacturers' Association, or ACEA, said Tuesday in a statement. That pared the gain in the first five months of the year to 6.7 percent for a total 6 million autos.
The Organization for Economic Cooperation and Development cut its global economic-growth forecast in early June, in part because the risk of a debt default by Greece is making businesses wary of spending money. Consumer confidence in the 19 countries using the euro dropped a second consecutive month in May, with plans for purchases declining from April.
"The ongoing talks on Greece do have an effect on consumers," said Juergen Pieper, a Frankfurt-based analyst with Bankhaus Metzler. "It doesn't help sentiment as the potential effect of the country leaving the euro is stoking uncertainty."
ECB's View
May marked the 21st month in a row of European car-market expansion, though the growth was the most sluggish since a 1.2 percent increase in November. While the euro zone's unemployment rate has receded from record highs set two years ago, European Central Bank President Mario Draghi said in early June that it remains a concern to policy makers.
The ACEA's numbers comprise data from 28 of the 29 European Union members, excluding Malta, plus Switzerland, Norway and Iceland. May's figures were also reduced in part by the shift of the Pentecost religious holiday to last month from June 2014.
"Adjusted for public holidays, the key markets are continuing their gain from a low base," said Frank Biller, a Stuttgart, Germany-based analyst for LBBW. "There's no reason to be euphoric, but we do have an unbroken upward trend, even with the slowdown in May."
Among Europe's biggest car markets, sales declines of 6.7 percent in Germany, the largest, and 3.5 percent in France, which ranks third, weighed on regional growth. Registrations rose 14 percent in Spain, 11 percent in Italy and 2.4 percent in the U.K.
Renault was the only manufacturer among Europe's five top auto sellers to post group sales growth in the region in May, with a 5.4 percent gain. That compares with a 15 percent jump in April for the French carmaker, which has been benefiting from demand for the Captur sport utility vehicle. Sixth-ranked Fiat Chrysler Automobiles NV sold 9 percent more cars in Europe last month.
Fiat's Discounting
The Fiat brand offered an average 15.7 percent off sticker prices in Germany last month and Ford Motor Co. provided 14 percent reductions, with both deepening their discounts from April, according to figures compiled by trade publication Autohaus PulsSchlag.
Daimler AG, whose Mercedes-Benz brand is the world's third-biggest luxury-car manufacturer, reported a 12 percent increase in European sales in May because of an 84 percent surge in demand at the Smart city-car division, which has updated its main two-seat model and added a four-seat version. European registrations by BMW AG, the biggest luxury-vehicle maker, rose 7.9 percent as a revamped model line prompted a 36 percent jump at the Mini compact-car unit.
European deliveries by Volkswagen, the regional industry leader, fell 2 percent, with the Audi premium-car division posting a 5.9 percent drop. Second-ranked PSA Peugeot Citroen sold 5.2 percent fewer cars.
Before it's here, it's on the Bloomberg Terminal.
LEARN MORE