China Resources Enterprise Profit Rises on Snow Beer Demand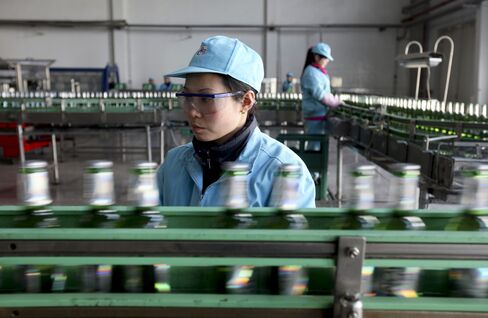 China Resources Enterprise Ltd., the state-backed brewer that's discarding non-beer assets, said first-quarter income rose 3 percent as its top-selling Snow beer helped offset weakness in a retail venture with Tesco Plc.
Underlying profit rose to HK$360 million ($46 million) from HK$349 million a year earlier, the company said in a statement on Wednesday. The underlying figure excludes asset revaluation and major disposals. Sales rose 16 percent to HK$48.6 billion.
China Resources has struggled to contain the costs of integrating Tesco's chain as the country's economic slowdown and government austerity measures hit sales of high-end liquor and other gifts. The company said in April it will sell assets to its state-owned parent parent and focus on beer.
The company said Wednesday it has also received a revised proposal from its state-owned parent, details of which will be published "as soon as practicable."
China Resources' retail unit, which includes hypermarkets, supermarkets and convenience stores, reported underlying profit fell 28 percent to HK$335 million in the first quarter. The beer unit posted profit of HK$51 million, up almost nine times from a year earlier.
Selling Assets
China Resources shares have been suspended since Tuesday pending the earnings. The stock, which fell 0.8 percent to close at HK$23.85 on Monday, have jumped 57 percent since the company announced the asset sale on April 21.
The volume of beer sold increased 3 percent in the first quarter, of which Snow beer accounted for about 90 percent, China Resources said in its earnings statement. The Chinese brewer partnered SABMiller Plc to make Snow Beer in 1994, and it became the world's biggest by volume after overtaking Bud Light in 2008, according to London-based SABMiller's website.
China Resources said it's selling the non-beer assets, which also includes food and beverage units, as the existing multi-business structure doesn't reflect its full value. Its parent will acquire the businesses for HK$28 billion, and offer HK$12.70 for as much as 10 percent of the remaining listed beer unit, according to the company in April.
Expanding Beer
China Resources may buy Beijing Yanjing Brewery Co. after its restructuring is completed, BNP Paribas SA analyst Charlie Chen wrote in a note last month. Yanjing, China's third-largest beermaker, plans to sell a stake to a foreign partner, people with knowledge of the matter said in February. Yanjing denied the plan at the time.
China Resources' beer division will "continue to seek and evaluate investment opportunities in a prudent manner" while pursuing organic growth in order to expand its market share, it said on Wednesday.
The company's beverage unit, which has a joint venture with Kirin Holdings Co. and sells bottled milk teas, posted an underlying profit of HK$66 million, up almost seven times. Its food division reported a loss of HK$38 million, narrowing from HK$50 million a year earlier.
It expects further negative impact on the retail unit as China's retail business "undergo profound change and consolidations," citing factors such as the rise of e-commerce, Beijing's continued anti-extravagance policy, and the shift in China's economy.
China's economy expanded at the weakest pace since 2009 in the first quarter, with output, investment and retail data pointing to a deepening slowdown.
— With assistance by Haixing Jin
Before it's here, it's on the Bloomberg Terminal.
LEARN MORE