Cameron Backs Down From May 2016 EU Vote After Tory Protests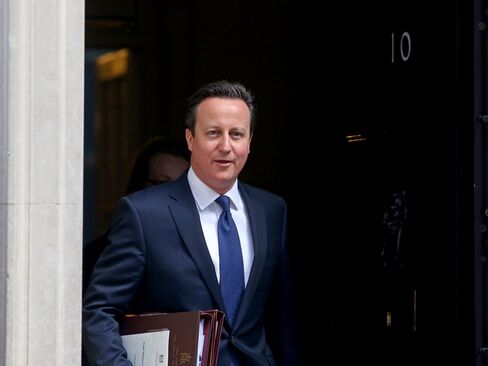 U.K. Prime Minister David Cameron suffered his second reversal in a week over the referendum on membership of the European Union, conceding that it won't be held on the same date as other votes in 2016, after protests from within his own Conservative Party.
Foreign Secretary Philip Hammond late on Monday tabled a seven-word amendment to the EU Referendum Bill, saying the vote can't be held on May 5, 2016. This is the date of regional elections in Scotland, Wales and Northern Ireland, as well as for some local government seats in England. Holding the two votes together could have led to a higher turnout in areas where people are more likely to support EU membership.
"It's about having a fair referendum," Bernard Jenkin, a euro-skeptic Conservative, told BBC Radio 4 on Tuesday. "People will think they're trying to rig the whole thing."
The retreat shows how the referendum, originally announced by the prime minister in 2013 to pacify Conservatives, has the potential to stir up trouble with sections of his party however it is framed.
In a June 7 briefing with reporters, Cameron suggested he would expect ministers in his government to campaign to keep Britain in the EU, and left the door open to a May 2016 vote, saying that voters were "quite capable of going to a polling booth and making two important decisions."
Cameron dropped the first position on June 8, after he had seen how it was reported, saying he'd been "misinterpreted." He has now dropped the second.
Imposing Purdah
The next target for Tory opponents of EU membership is the British system of "purdah," a rule whereby government departments and civil servants make no announcements in the run-up to elections and referendums.
Cameron is currently resisting imposing purdah before the EU vote, on the grounds that it might restrict his ability to speak from European summits.
Ahead of a debate on the bill in Parliament, Europe Minister David Lidington wrote to Conservatives saying it would be "unworkable" to apply purdah, because "it could prevent Ministers from effectively conducting the significant amounts of ordinary day-to-day business." He also said it would be "inappropriate" because the government would be taking a position on the referendum. He promised to work with them to find a compromise.
Read this next:
"Working out a system that will reassure colleagues and voters that the referendum is a fair fight, yet will preserve the government's ability to act in the national interest is not straightforward," Lidington wrote. "It is important that it is legally clear and robust."
Jenkin told the BBC it was important to ensure that the government couldn't use the civil service to campaign to keep Britain in.
"Who will trust the result of this referendum if the government has been able to deploy their vast resources?" Jenkin said.
Before it's here, it's on the Bloomberg Terminal.
LEARN MORE