Surge in Home Completions Tamps Down Inflation as Fed Meets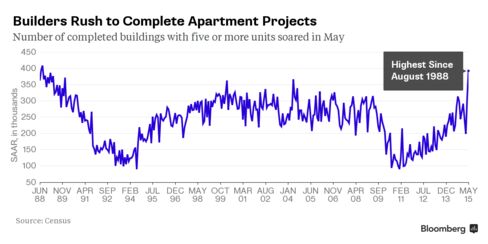 American builders are tamping down what little inflation there is.
Construction companies completed 392,000 buildings with five or more units at an annualized rate in May, the most since 1988, Commerce Department figures showed Tuesday in Washington.
"The pickup in demand is pushing up rents and also creating more incentive for builders to put up more units," said Michael Hanson, a senior economist at Bank of America Corp. in New York. The jump in completions "helps offset some of the upward pressure we've seen" on rents, said.
Labor Department data show rents climbed 3.5 percent in the 12 months through April, almost twice the 1.8 percent increase in all prices excluding food and energy over the same period. Federal Reserve policy makers, meeting Tuesday and Wednesday, have said they will eventually raise the benchmark interest rate as unemployment drops and inflation progresses toward their 2 percent goal.
A tight mortgage-credit market and too-pricey homes for sale are forcing younger Americans into apartments, pushing rental vacancy rates to the lowest levels since 1993.
The 1.5 million increase in households in the year through March represented a 1.9 million surge in renter-occupied units and a 400,000 drop in owner-occupied homes, according to economists at Morgan Stanley in New York.
Supply Pipeline
"Multifamily starts have been running very strong in response, and there's a lot of supply in the pipeline," Ted Wieseman, who's based in New York, wrote in a research note.
Of course, additional housing supply could just help inflation develop in other parts of the economy, Hanson said. Any moderation in rents would free up money that could be spent on other goods and services, potentially pushing those prices higher, he said.
Additionally, rents tend to be "sticky," which means it takes a lot to make them change direction quickly, said Neil Dutta, head of U.S. economics at Renaissance Macro Research LLC in New York. So, at best, gains in apartment costs would probably stabilize around 3 percent a year, he said.
"Vacancy rates remain low even as the new supply comes to the market," said Dutta.
Before it's here, it's on the Bloomberg Terminal.
LEARN MORE