BlackRock's Playbook Ignores Emerging-Market Debt Fear Mongering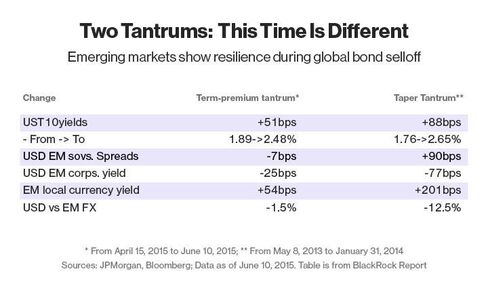 For all the handwringing over a crisis in emerging markets as they face the prospect of higher U.S. interest rates, BlackRock Inc. says developing countries are doing just fine.
Consider this: dollar-denominated bonds from emerging-market issuers have fallen 2.7 percent since mid-April when a global debt selloff started, not much worse than a 2.2 percent decline in the securities of developed economies. Currencies from Brazil to Russia fell only 1.6 percent against the dollar on average in the past two months while the increase in local-currency bond yields was largely in line with the rise in the benchmark 10-year U.S. Treasuries.
Compare that with the so-called taper tantrum two years ago as investors dumped emerging-market assets after the Federal Reserve said it would start winding down the bond-buying program. BlackRock, the world's largest money manager, says that developing nations today are more resilient than they were then as the attached chart shows.
Unlike 2013, the risk of the first Fed interest-rate increase is well telegraphed, the valuation of emerging market assets is "more fair" and many countries have made progress in addressing their economic vulnerabilities, according to BlackRock.
"We believe 2015 is unlikely to play out like 2013," BlackRock's emerging-market portfolio managers Pablo Goldberg and Sergio Trigo Paz wrote in a note Tuesday. Emerging-market debt is "better prepared to withstand the potential turbulence resulting from a Fed hiking cycle," they said.
BlackRock's Playbook
The BlackRock team, which manages $8.4 billion in emerging-market debt, prefers dollar-denominated bonds over local-currency securities as they expect developing-nation currencies to fall against the dollar. The managers also maintain a "more cautious" approach to interest-rate risks as a decline in the inflation rate starts to reverse.
BlackRock expects the Fed to gradually raise the benchmark interest rate, with the first increase starting later this year or in early 2016.
Under this scenario, emerging-market dollar bonds may deliver a return between 4.7 percent and a loss of 0.4 percent. Local-currency debt will decline within a range of 1.2 percent and 7.5 percent, according to BlackRock.
The risk is that inflation accelerates in the U.S. or deflation returns, altering the path of the Fed's monetary policy. That may send dollar bonds down as much as 6.3 percent, while local-currency debt may fall 15 percent, according to BlackRock's analysis.
Before it's here, it's on the Bloomberg Terminal.
LEARN MORE