ABN Amro CEO Says Dutch State-Owned Bank Ready for IPO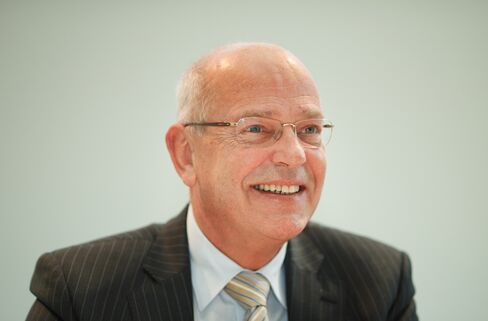 ABN Amro Group NV expressed support for the Dutch government's plan for protecting the nationalized bank from hostile takeovers after it returns to private markets.
"It's necessary, so that what happened in 2007, won't ever happen again," Chief Executive Officer Gerrit Zalm told lawmakers who questioned him late Tuesday on whether the bank is ready for an initial public offering.
Dutch Finance Minister Jeroen Dijsselbloem said last month the government is proceeding with plans to sell 20 percent to 30 percent of the bailed-out lender. The government estimates ABN Amro is worth 15 billion euros ($16.9 billion), meaning the state may recover as much as 4.5 billion euros, one-fourth what it spent on the rescue.
The bank's IPO is a "logical step," Zalm told members of parliament's finance committee in talks in The Hague. He expects ABN Amro to achieve a long-term return on equity, a measure of profitability, of 9 percent to 12 percent.
The government has recommended setting up a foundation that can take the voting rights of its shareholders if confronted with unwanted takeover bids. Parliament is scheduled Tuesday to discuss the IPO, including the protective measures, which would have to be stated in the articles of association prior to a listing.
ABN Amro was formed after the government took over the Dutch banking and insurance units of Fortis Bank. The Belgian lender had joined a 72 billion-euro takeover of ABN Amro Holding NV with Royal Bank of Scotland Group Plc and Banco Santander SA in 2007. The deal, the largest financial services takeover ever, turned sour during the credit crunch a year later when parts of the institution were nationalized. The debacle cost the Dutch government 22 billion euros and led to the loss of thousands of jobs.
Dijsselbloem delayed a decision on timing of the IPO in March after lawmakers questioned a 100,000-euro salary increase for six ABN Amro board members, prompting the resignation of a supervisory board member. Zalm apologized publicly over the increase in compensation, which came as the bank boosted profit to the highest in four years.
Before it's here, it's on the Bloomberg Terminal.
LEARN MORE