Zipcar Shows Growth of Sharing Economy Today Means M&A Tomorrow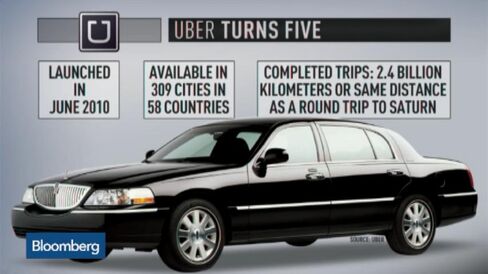 When Robin Chase co-founded car-sharing company Zipcar Inc. in 1999, she had no illusions about the endgame.
"We always knew that we would eventually either have an IPO or get purchased," Chase, who was chief executive officer until 2003, said by e-mail.
Zipcar ended up doing both. The company's public offering was in 2011, then it was acquired by Avis Budget Group Inc. for $509.9 million in 2013.
A growing number of companies built around providing on-demand services, often by pooling resources in what's become known as the "sharing economy," are poised to face the same decision. Companies like car-hailing start-up Uber Technologies Inc., said to be raising money at a $50 billion valuation, and room-rental service Airbnb Inc., said to be doing the same at a $20 billion valuation, have helped a once remote concept grow into a burgeoning business model.
There's a $450 billion market in the U.S. for services that could be disrupted by the sharing economy, Bank of America Corp. strategist Sarbjit Nahal said in a report last month. As the flow of money helps create dominant players in the space, smaller competitors may join forces to try to displace market leaders, according to Michael Stiller, a tech analyst at Nasdaq OMX Group's advisory services unit.
"When you have a winner-take-all marketplace environment, they are truly more valuable as they grow," Stiller said.
Cash Hoard
Because there's no precise definition of what's included in the sharing economy, pinpointing its size is tough. According to a 2014 study by PricewaterhouseCoopers LLP, the sector had $15 billion in annual revenues in 2013, which could grow to $335 billion by 2025.
Arun Sundararajan, a professor at New York University's Leonard N. Stern School of Business who researches the sharing economy, puts that number anywhere between $150 billion and $1 trillion in a "few" years' time.
That's fertile ground for U.S. companies that are flush with cash and on the prowl for acquisitions. There was $3.3 trillion of M&A activity globally last year, the most since 2007, and $1.5 trillion is in the books so far this year, according to data compiled by Bloomberg.
Paris-based Comuto SA's BlaBlaCar bought rivals Carpooling.com and AutoHop for undisclosed sums earlier this year. China's two largest taxi-hailing apps merged in February to create Didi Kuaidi Joint Co., which is backed by Internet giants Alibaba Group Holding Ltd. and Tencent Holdings Ltd. The lack of M&A in the U.S. could give way to purchases down the road, according to Sundararajan.
"Ride sharing is an area where the funding is very heavy among the top couple of players, but for the smaller ones it's more unclear whether they will be able to sustain themselves compared to their well-capitalized peers," said Matthew Wong, lead research analyst at CB Insights.
Hotel Industry
In the hospitality industry, the rise of house-sharing services is catching the attention of traditional hotel companies that have historically shied away from the sector. Hyatt Hotels Corp. is "collaborating" with onefinestay, according to Hyatt spokeswoman Amy Patti. The Wall Street Journal reported last month that the hotel chain invested in onefinestay's $40 million funding round.
For hotel companies, which have already diversified into auxiliary areas like senior housing, room-sharing could be another complement to the core business, according to Sean Hennessey, clinical assistant professor at the Tisch Center for Hospitality and Tourism at New York University School of Professional Studies.
"Certainly from the hospitality point of view there is momentum for M&A activity," Hennessey said. Home-sharing's appeal to younger consumers offers a chance to rope in lifetime customers for traditional companies that are already trying to lure that cohort with hip branding, he said.
Critical Mass
Still, the hospitality industry embodies some of the challenges for traditional companies jumping into the sharing economy, including a patchwork of legal restrictions on home rentals.
Because the sector is still young, few sharing-economy companies have made M&A a priority, according to Sebastian DiGrande, who heads Boston Consulting Group Inc.'s West Coast Technology, Media and Telecoms practice.
Sharing economy companies "are more focused on getting to what I would describe as critical mass in their given market than they are on M&A," he said. "That doesn't mean downstream they won't do M&A, but to me that's still where we are in the evolution."
For more, read this QuickTake: The Sharing Economy
Before it's here, it's on the Bloomberg Terminal.
LEARN MORE