Sweden Seeks to Interview Assange in London in June or July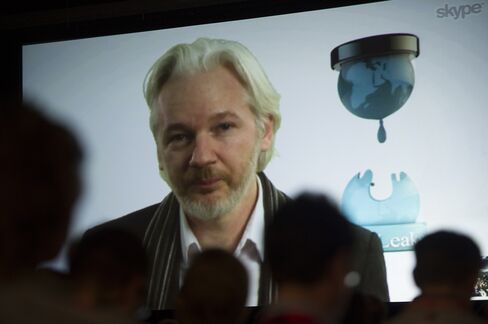 Sweden asked U.K. and Ecuadorian authorities to allow prosecutors to interview WikiLeaks' founder Julian Assange at Ecuador's embassy in London before a statute of limitations in the sexual-assault case runs out this year.
Sweden's Director of Public Prosecution Marianne Ny submitted a request for assistance to U.K. authorities and a request to Ecuador for permission to interview Assange at its London embassy during June or July at a"time that would be suitable for all parties," according to a statement Monday.
Assange sought refuge at the Ecuadorian embassy in June 2012, after exhausting options in U.K. courts to avoid extradition to face questioning on allegations of rape and sexual molestation during a 2010 visit to Sweden. The Australian national, who says he's innocent, has refused to return to Sweden, citing risks he will be extradited to the U.S. over the release of secret documents by WikiLeaks.
Sweden's "investigative matters" will be performed by the supporting prosecutor to the case, Chief Prosecutor Ingrid Isgren, and a police investigator once the necessary permits are ready. Sweden won't provide any information about the investigation and Isgren won't give interviews in London.
"As the investigation is ongoing it is subject to usual secrecy," the Swedish prosecutors said in the statement. "Therefore, the prosecutors will not provide information concerning the results of the interviews with Julian Assange."
Assange's Swedish lawyers, Per E. Samuelson and Thomas Olsson, weren't immediately available to comment.
U.K. Foreign Office
The U.K. foreign office said that its ability to facilitate a meeting with the Swedish prosecutor remains limited with Assange at the Ecuadorian embassy.
"While Mr. Assange continues to be outside the reach of the U.K. authorities however, voluntarily providing a statement or taking part in an interview are issues which should be agreed between the Swedish Prosecutor, Mr. Assange and the Ecuadorian Embassy," the foreign office said in a statement.
Ny said March 13 that Sweden would seek permission to question Assange in London to preserve the case, putting in a request to Assange's legal representatives to ask if he'll consent to being interviewed and to having a DNA sample taken. The decision behind the timing "is chiefly that a number of the crimes Julian Assange is suspected of will be subject to a statute of limitation in August," Ny said then.
Before it's here, it's on the Bloomberg Terminal.
LEARN MORE