Sudan's Al-Bashir Dodges Arrest as South Africa Rebuffs ICC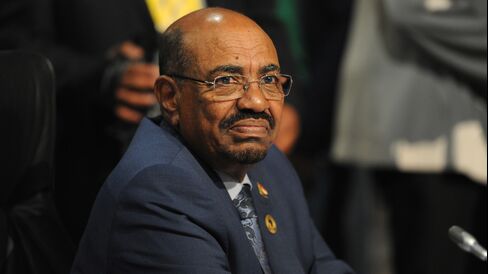 South Africa rebuffed the International Criminal Court and its own judiciary as it let Sudanese President Umar al-Bashir dodge arrest on war crimes and genocide charges rather than risk alienating its African peers.
On Sunday, South Africa's High Court ordered the government to ensure al-Bashir, who was in Johannesburg attending an African Union summit, stay put while it decided whether he should be arrested under an ICC indictment. At a hearing in Pretoria on Monday, Judge Dunstan Mlambo ordered preparations to be made for his detention, only to be told by a state lawyer that he'd left the country. The government's actions were inconsistent with the constitution, Mlambo said.
"Al-Bashir sneaked away like a thief," Mukesh Kapila, the former head of the United Nations in Sudan, said in e-mailed comments. "It is very disappointing that the land that fought so bravely against apartheid showed such cowardice. They have let down their fellow Africans and indeed the world."
The ICC, created in 2002 to hunt down perpetrators of crimes against humanity, indicted al-Bashir in 2009 and 2010 for his role in atrocities in Sudan's western region of Darfur. All eight of the investigations the ICC has opened so far have involved African nations, drawing criticism of unfair treatment.
"This is not the headquarters of the ICC," Zimbabwean President Robert Mugabe, who holds the AU's rotating chairmanship, told reporters after the summit ended. "We do not want it in this region at all. The treaty that set it up was signed not by the AU but by individual countries who thought the ICC was there for doing good. Those who signed the treaty are now regretting it."
Diplomatic Immunity
A signatory to the Rome Statute that established the ICC, South Africa's legal obligation to arrest al-Bashir conflicted with its pledge to the African Union to grant diplomatic immunity to all delegates to the summit. President Jacob Zuma's administration argued that the summit fell under the jurisdiction of the 54-member African Union.
"We don't subscribe to that view," that the ICC is targeting Africa, Linda Thomas-Greenfield, U.S. assistant secretary of state for African affairs, told reporters in Johannesburg on Monday. "The vast majority of individuals who have been turned over to the ICC who were from Africa were turned over by their own countries or other countries where they have been caught. This is not a battle about holding Africans to a different standard."
Darfur Toll
The conflict in Darfur, where insurgents took up arms in 2003, has led to the deaths of as many as 300,000 people, mainly due to illness and starvation, while about 2.4 million people have been displaced, according to UN estimates. In December, the court said it would "hibernate investigative activities" in Darfur and shift resources to "other urgent cases."
"It is completely unacceptable and shocking for South Africa, as a member of the ICC, to ignore its international obligations in this way and allow impunity free rein," Netsanet Belay, Amnesty International's research and advocacy director for Africa, said in e-mailed comments. "Not only has it undermined the country's commitment to the ICC, it has ridden roughshod over the rights and hopes for justice of all those people who were killed and displaced during the war in Darfur."
Al-Bashir arrived on Monday evening in Sudan's capital, Khartoum, where a crowd of supporters greeted him at the airport.
Mlambo told the government lawyers to produce an affidavit indicating how al-Bashir was able to leave the country from Waterkloof Air Force base even after it was served an order to stop him from leaving.
AU Rules
"I'm not sure what is the fuss about," Nkosazana Dlamini-Zuma, the chairwoman of the AU commission, told reporters. "It was an AU meeting. When a country hosts, it hosts in accordance with the rules of the AU not according to its own rules. The ICC has no standing" in the AU.
South Africa's government will file a statement as requested by the court and it will wait for the written judgment before it takes further action, acting cabinet spokeswoman Phumla Williams said in an e-mailed statement.
"No matter what you think about the ICC or al-Bashir, if you are not horrified by government ignoring a court order, you are not seeing the big picture," Pierre de Vos, a University of Cape Town law professor, said in a Twitter post.
Before it's here, it's on the Bloomberg Terminal.
LEARN MORE