Saks Owner Plots Europe Push After $3.2 Billion Kaufhof Deal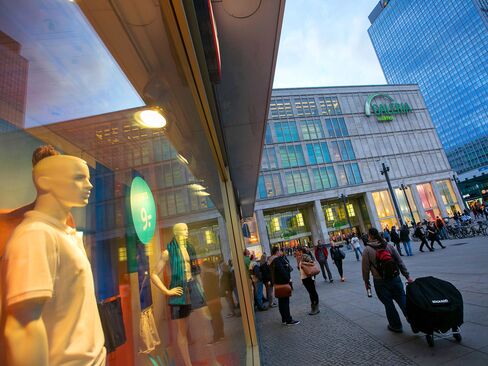 Hudson's Bay Co. agreed to buy Metro AG's Galeria Kaufhof stores for 2.83 billion euros ($3.2 billion) including net debt and other liabilities, putting the famed German retailer under the same ownership as Saks Fifth Avenue.
Canada's oldest company beat off competition for the 136-year-old chain and, according to Chairman Richard Baker, has even bigger ambitions in Europe that will involve opening Saks outlets in the same building as some Kaufhof locations.
"We have been carefully surveying the European retail landscape for many years for a potential expansion opportunity," Baker, 49, said in a joint statement. "It is the right investment and the right time."
For Hudson's Bay, the deal marks another step in the rapid expansion of a company which began operations as a fur-trading outpost in 1670 and acquired Saks in 2013. Metro will use the proceeds to repay debt, giving the Dusseldorf-based retailer increased scope to spruce up store banners including Media Markt, and invest in e-commerce.
Initial reaction wasn't favorable for Metro, as some analysts said the amount by which debt will be reduced was less than they expected and the net purchase price was less than had been reported. The shares fell 4.7 percent in Frankfurt to the lowest level in almost four months. By contrast, Hudson's Bay rose 7.9 percent to C$25.89 in Toronto.
The Canadian company said the takeover will be mostly funded from the sale of 40 Kaufhof stores to a joint venture it established earlier this year with Simon Property Group Inc.
Signa Regret
Hudson's Bay beat out Vienna-based Signa Retail, controlled by Austrian property developer Rene Benko, who also owns Kaufhof competitor Karstadt, people familiar with the matter said. Signa said in a statement that it regrets the sale and will focus on developing Karstadt.
The mostly cash bid by Hudson's Bay was deemed a better offer because it included labor-related concessions, a more-solid financing structure and plans to grow and invest, the people familiar said. A merger of Kaufhof and Karstadt, on the other hand, may have led to job losses, one person said.
Kaufhof and Karstadt have dominated German department-store retailing for more than a century, though have struggled recently to adapt to new competitors including Amazon.com Inc. as shoppers seek more international brands in an increasingly crowded market. Kaufhof's same-store sales fell 1.4 percent last year and slipped again in the first quarter.
Lofty Plans
Hudson's Bay has lofty plans for the Cologne-based retailer, which had sales last year of 3.1 billion euros and earnings before interest and taxes of 193 million euros. The Toronto-based owner of Lord & Taylor clothing stores could use Kaufhof's headquarters as a European base to expand into new countries over the next 20 years, Baker said.
The combined company will have 464 stores worldwide and annual revenue of about C$13 billion ($10.6 billion), of which just under a third will come from Germany.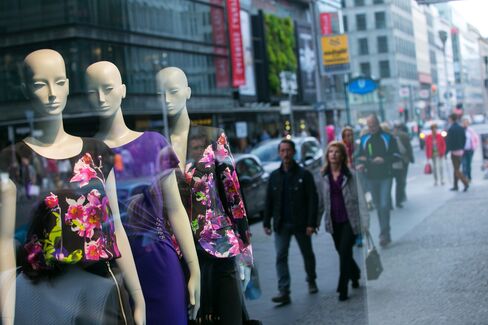 Galeria Kaufhof was founded in 1879, and its 135 stores in Germany and Belgium occupy prime real estate in city centers. The chain, which was part of the merger that created Metro in 1996, employs about 21,500 people.
Hudson's Bay said it doesn't plan any significant changes to store numbers or staffing levels. That point alone was likely a "key argument" for Metro to sell to the Canadian company, said Volker Bosse, an analyst at Helvea.
Debt Reduction
Metro expects a positive cash inflow of about 1.6 billion euros from the sale and to reduce its net debt by about 2.7 billion euros, the company said. According to John Kershaw, an analyst at Exane BNP Paribas, net borrowings will be reduced by 1.9 billion euros under a standard definition that excludes pension liabilities and lease commitments. That figure may be "somewhat disappointing," he said in a note.
Analysts at Barclays pointed to the lack of a special dividend as another possible factor weighing on the shares.
The sale includes Kaufhof's store business in Germany and Belgium, as well as the corresponding real-estate portfolio, Dusseldorf-based Metro said in the statement. The transaction is expected to close by the end of September.
Hudson's Bay was advised by Bank of America Merrill Lynch. Metro worked with JPMorgan Chase & Co. and Deutsche Bank AG.
Before it's here, it's on the Bloomberg Terminal.
LEARN MORE