MERS Shadow Seen Lifting From Korea Consumer Stocks by Macquarie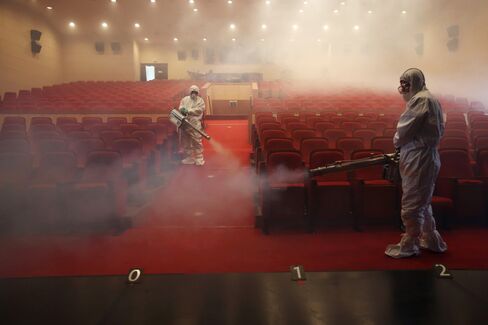 Macquarie Investment Management has stayed bullish on South Korean consumer shares as a deadly virus shut schools, emptied stores and forced airlines to cut flights.
"We haven't changed our view at all," Sam Le Cornu, who oversees about $3 billion in Asian equities at Macquarie in Hong Kong, said June 12. "We like the consumer and cosmetics sector, so we're very happy to hold throughout the volatility."
A gauge tracking consumer shares on the MSCI Korea Index has fallen 12 percent since May 20, when the first case of MERS was reported, twice the loss of the broader index. The measure of companies including AmorePacific Corp. and Hotel Shilla Co., had rallied 64 percent to a record high in the previous 12 months as an influx of Chinese shoppers spurred higher profits.
While MERS will cool consumer spending for now, sales will probably rebound in the second half of the year on pent-up demand, according to Hwang Sangyoun, head of equities at Allianz Global Investors Korea Ltd. Nomura Holdings Inc. said the declines may create buying opportunities. Hotel Shilla, Samsung group's luxury hotel and duty-free shop operator, has fallen to a two-month low, while AmorePacific, the nation's biggest cosmetics company, lost 11 percent since May 20.
Around 108,000 tourists have canceled trips to South Korea due to MERS as of June 13, the culture ministry said Monday. Asiana Airlines Inc. is cutting 52 flights from June 11-30, including to Shanghai and Hong Kong, the company said Monday. Department store sales fell 17 percent in the first week of June from a year earlier, the Ministry of Strategy and Finance said.
South Korea reported 19 deaths from the MERS among 154 confirmed cases as of 6 a.m. Tuesday and more than 5,000 people have been quarantined, according to health ministry.
Borrowing Costs
While some leisure and tourism-related companies may see weaker earnings than previously expected, the effects of the virus will be limited, said Allianz Global's Hwang. "I don't think MERS will affect foreign investor sentiment toward Korea unless the incident drags too long, which is unlikely."
The government is taking steps to prevent a slowdown in the nation's 360 trillion-won ($322 billion) retail sector, with the central bank cutting borrowing costs to a record low last week. The rise of consumer industries such as cosmetics has helped the economy weather a downturn in manufacturing and shipbuilding industries that were once the nation's biggest source of growth.
The MSCI Korea Consumer Staples Index traded Monday at 21.2 times projected 12-month earnings, down from its high of 24.8 times two months ago. LG Household & Health Care Ltd., Korea's second-biggest cosmetics firm, was valued 22 times, its cheapest since October after the stock tumbled 23 percent from May 20.
Shares Rebound
The Korean consumer stock index rallied 2.7 percent at the close of Seoul trading, its biggest gain since MERS was first reported in the country. LG Household surged 6.5 percent and AmorePacific climbed 2.4 percent, while the benchmark Kospi index dropped 0.7 percent.
The number of Chinese tourists to Korea last year jumped 42 percent to 6.1 million, according to the Korea Tourism Organization. More than 70 percent of the visitors' shopping budget was spent on beauty products in 2013, according to a Daiwa Securities Co. report released in March.
"The industries relying heavily on Chinese visitors -- cosmetics, casinos or duty-free shops -- they're being hit by the MERS in the short term," Michael Na, Seoul-based strategist at Nomura Holdings Inc., said by phone on June 11. "But I don't see MERS reversing the structural growth story in such sectors. It may be time for bargain hunting if such stocks show a big correction."
Shop Discounts
Shops are adapting to the fall in visitors. Online sales at Lotte Department Store rose 45 percent June 1-9 compared with a year earlier, as the company offered discounts of as much as 70 percent, the company said.
Weaker earnings may limit a rebound in what have been Korea's hottest stocks, says Lee Jin Woo, a money manager at KTB Asset Management Co.
For more on MERS, read this next:
"The main impact of drop in Chinese visitors will begin to take effect for the last part of second quarter and trip cancellations will be fully reflected from the third quarter," Lee said in Seoul.
Macquarie's Le Cornu is sticking with consumer and cosmetic stocks, which he says include some of Korea's "highest quality" companies.
"This is not a structural issue," he said. "We really like the Korean domestic demand and service industry."
Before it's here, it's on the Bloomberg Terminal.
LEARN MORE