Mark Rubin Wins 4th Decathlon Title as Wall Street's Top Athlete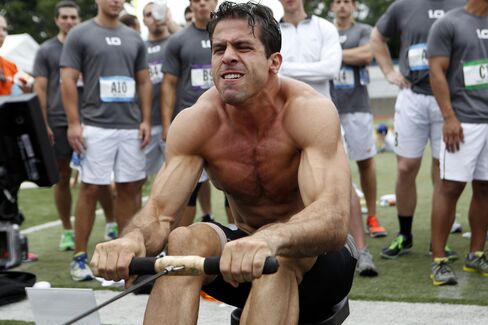 Mark Rubin left no doubt who's the best athlete on Wall Street. The 29-year-old futures and options sales trader won his fourth straight Decathlon title on Sunday with a record-setting point total.
Rubin, a former Pennsylvania State University safety who spent time in training camp with a few National Football League teams, finished ahead of his chief rivals -- Collin Zych and Jay Li -- to top the field of about 100 financial industry workers in the 10-event charity challenge. The Decathlon this year raised approximately $1.3 million for Memorial Sloan-Kettering Cancer Center in New York.
Rubin, who starts a new job with ICAP next week, finished with a Decathlon-record 7,683 points. Greenhill & Co.'s Zych, a former Harvard University football captain who was briefly with the NFL's Dallas Cowboys, was 221 points behind after third-place finishes the previous two years. Li, a 33-year-old equity analyst at Trafelet Brokaw, placed third -- 298 points behind Rubin -- after two straight runner-up finishes.
"The competition keeps getting better, keeps getting tougher," Rubin, who won the 2014 Decathlon by one second, said in a telephone interview. "They were all putting up top scores and you needed to answer. Seeing them perform at a high level, you just try to rise to the competition and put up a good score or a good time."
Rubin clinched the victory in the final event -- the 800-meter run -- with a time of 2 minutes, 19 seconds. Zych and Li both had a chance to clinch the title in the final event if they had beaten Rubin by more than 8 seconds.
One-Day Competition
In addition to the 800, there were running events at distances of 40 yards and 400 meters at St. John's DaSilva Memorial Field. Also in the one-day competition were pull-ups, a football throw, an agility drill, rowing, vertical jump, bench press and dips -- a triceps exercise using one's own weight.
Zych, 27, earlier in the competition ran the 40 in a time of 4.39 seconds.
Clinton Biondo, a managing director at Fir Tree Partners, won the top executive title for the third year in a row. He was just over 1,000 points ahead of David Lazarus of Trillium Trading LLC and finished fourth in the overall standings.
"This is my sixth year competing and every year I am more impressed with the level of competition out there," Biondo, 35, said by e-mail. "I was up nearly 300 points from last year, yet still couldn't get out of the fourth slot. As one of the older competitive guys, I am fighting time a bit more every year in the fast-twitch, explosive events."
Lazarus, 41, was the winner in the 40-49 age group, topping Andrew Hogue of Goldman Sachs by 42 points.
Women's Division
Laura Placentra of Citi won the women's division by 349 points over Evelyn Konrad of Wells Fargo, the 2013 champion who was third a year ago. Placentra was a multisport athlete at the University of Pennsylvania, competing in the pole vault as well as playing on the softball team.
Other top individual performances included former Yale University football captain Tom McCarthy of Morgan Stanley winning the football throw with a toss of 75 yards. Jaiye Falusi of Citi, who played football at Princeton, won the 400 in 51.24 seconds, while Will McHale of Axiom had 45 reps in the bench press at a weight of 175 pounds, one better than Rubin and 50-year-old David Carraturo, a partner at IRC Securities.
The team competition was won by Team Athlete, a four-man squad headed by Tom Tesauro, a former Villanova University pitcher who now works in credit sales at Goldman Sachs. The winning team, which raised more than $60,000 in donations, included Tesauro's Goldman Sachs colleague Melvis Langyintuo, who played basketball at Skidmore College. Also on the team were his former Villanova baseball teammate Andrew Geenen of Citigroup Inc., and Dallas Ouano, a former Villanova basketball captain now at SumRidge Partners.
Fundraising Counts
Because fundraising counted for one-third of the total score this year, Team Athlete took home the title while finishing sixth in the athletic portion of the competition.
A team from Bank of America and Merrill Lynch was second. The top-scoring team in the athletic portion of the event was the WAC Decathlon Team, which featured RedBrook Capital Partners co-founder Sean Banerjee and three members of USA Rugby who traveled from Seattle.
"Won the athletic competition, hands down. We'll come back next year and crush it again," Banerjee, 29, said. "Fundraising was our weak point, but ultimately we had clients and friends rally for us in the final week."
The Wall Street Decathlon has raised more than $6.3 million for cancer research since it was started in 2009. Rubin has raised at least $45,000 in donations during his reign as champion, including $14,700 this year.
"Honestly, that's what I'm most proud of," Rubin said. "That's what this event is all about."
Rubin, who keeps his trophy on a dresser in his bedroom, said he'll be back again next year to defend the title he's won every year he's entered the competition.
"It's a great event," he said. "'I'm going to keep being a part of it for as long as I can."
Before it's here, it's on the Bloomberg Terminal.
LEARN MORE