It's OK to Enjoy Summer Without Fear of Equity Market Correction
There's better things to do this summer than worrying about stocks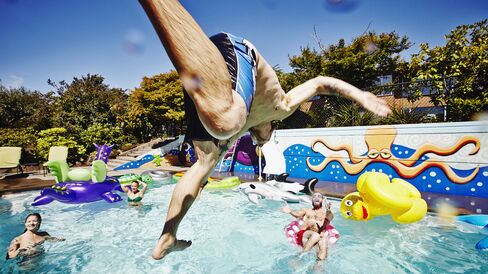 If you're shopping around for things that could cause a 10 percent drop in U.S. stocks, there is no shortage of potential catalysts. Especially this week, when two of the most oft-cited topics are at the forefront: Greece and the Federal Reserve.
Even among prognosticators who believe the market will close the year higher, there are concerns of elevated risks of a 10 percent drop, or "correction," in U.S. equities. The risks could be elevated, for example, because of flows out of U.S. stock funds that Bank of America warned about in April. The risks could be greater due to a looming Fed interest rate increase or external shocks like a Greek default or China growth scare, as JPMorgan Chase & Co. mentioned this morning. To some, the risks seem to grow simply because there hasn't been a correction since 2011.
Alternatively, if you'd like to spend the rest of the summer not worrying about the risk of a correction, then Jonathan Golub at RBC Capital Markets is the guy for you. He points out this morning that while the Standard & Poor's 500 Index has gone 1,350 days without a 10 percent dip, that's not necessarily as rare in lengthy bull markets as it may feel. In fact, it's only the third longest uninterrupted rally in the last 25 years. And the 1990-1997 stretch was almost twice as long.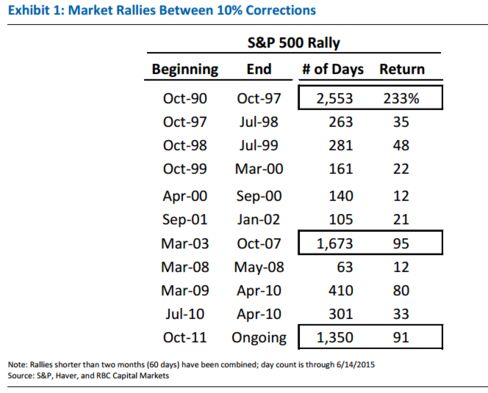 "Our work indicates that this trend is likely to persist," Golub wrote of the current streak.
The most common killer of bull markets is a recession, and the RBC strategist doesn't see the recent data ticking off any boxes in that regard.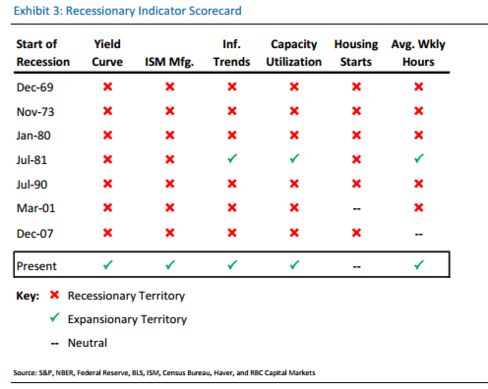 Looking at the past six rate-increase cycles, Robert Doll at Nuveen Asset Management shows how the threat of a correction may be most acute several months after the first rise in rates.
As seen in his chart, stocks were usually higher 500 days after the beginning of a tightening cycle, though on average the S&P 500 did experience a peak-to-trough decline of 10 percent along the way.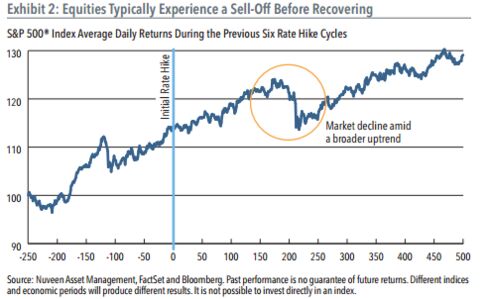 Still, as Doll points out, there is a big difference between the current scenario and previous tightening cycles: the Fed will start with borrowing costs much lower than they were in past cycles.
"The fed funds rate has room to move higher before it drags on economic growth," Doll and colleague Scott M. Tonneson wrote. "For example, if the Fed enacts four or five 25 basis point rate increases over the coming year -- a reasonable expectation -- the fed funds rate would increase to just 1.0% to 1.25%. This would hardly be punitive by any measure."
According to Doll, equities did poorly in the past when interest rates were high and moving higher. On the other hand, stocks tended to rise significantly when yields were as low as they are now and starting to move higher.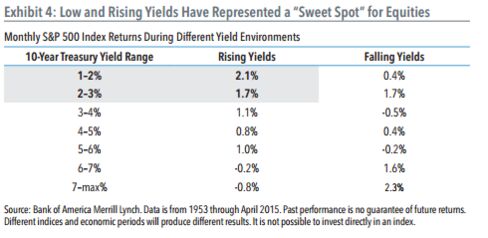 How closely the equity market rhymes with the past when the Fed does start increasing interest rates is anybody's guess. But the past is crystal clear on one thing: we'll only get one summer this year, so make the most of it.
Before it's here, it's on the Bloomberg Terminal.
LEARN MORE