Abbott Brushes Off Indonesia People Smuggling Concerns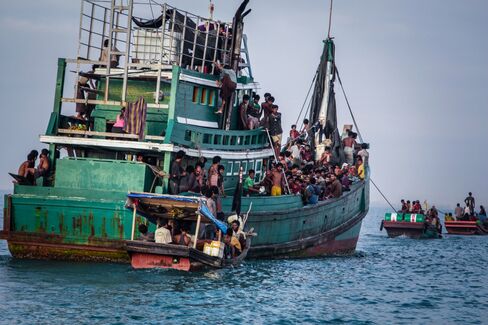 Prime Minister Tony Abbott sought to brush off Indonesian concerns that Australia paid people smugglers to turn around boats carrying asylum seekers, saying his government is taking a moral approach to tackling the issue.
"We have done the right thing, we have done the moral thing, the decent thing, the compassionate thing to stop the boats by doing whatever is necessary within the law," Abbott told reporters Tuesday.
Indonesian authorities say they are investigating an Australian Broadcasting Corp. report that a boat with 65 asylum seekers onboard was intercepted this month off Indonesia's West Papua by an Australian border patrol, with the crew paid A$5,000 ($3,870) each to turn around. Abbott has repeatedly declined to confirm or deny the report, which Indonesia has said if correct amounts to bribery.
The case risks triggering a fresh spat between the countries just a week after Canberra returned its ambassador to Jakarta, following the executions of two Australian citizens for drug smuggling in April. The neighbors have a long history of periodic friction.
"The response from Indonesia indicates it's very concerned about these allegations," said Donald Rothwell, a professor of international law at the Australian National University. A fall-out would jeopardize Indonesia's diplomatic cooperation, which is "absolutely critical to the success of Australia's border-protection policies."
Seeking Truth
Paying people smugglers to return boats with asylum seekers would be bribery and Indonesia needs to know the truth, Indonesia's Vice President Jusuf Kalla said.
"It is called a bribe," Kalla said. "Of course it isn't in accordance with the ethics of state relations."
Abbott won power in September 2013 vowing to "stop the boats" after a surge in asylum seekers attempting to travel to Australia by sea in often-rickety crafts from Indonesia. A recent crackdown on human trafficking rings by authorities in Thailand left thousands of Bangladeshi and ethnic Rohingya asylum seekers from Myanmar stranded at sea.
Australian intelligence agency officials have been paying Indonesia-based people-smuggling networks, including boat owners and crews, for information or to dissuade them from launching boats since about 2010, Fairfax Media reported Tuesday, citing sources it didn't identify.
"If, as is being suggested, Australian intelligence officers might be involved in this activity, they enjoy a fair degree of immunity under Australia law providing they are acting within the official brief of their responsibility," said Rothwell.
Before it's here, it's on the Bloomberg Terminal.
LEARN MORE