Peripheral Bonds Decline After Greek Debt Talks Collapse
Spain's bonds dropped, pushing 10-year yields to the highest relative to German bunds in almost a year, as concern Greece may default on its debt increased investor perceptions of risk in other lower-rated euro-area nations.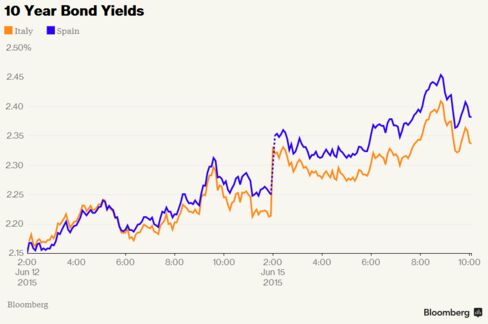 Italian and Portuguese bonds joined the selloff after a collapse in negotiations between the Greek government and its creditors. Policy makers responded by increasing the pressure on Greece to make concessions to unlock financial aid, with European Central Bank President Mario Draghi saying it was up to Greece to make the next move.
"We are getting close to the wire," said Richard McGuire, head of European rates strategy at Rabobank in London. "Will they default or will a compromise be reached? That's obviously a difficult coin to toss in terms of trading peripheral spreads."
Spain's 10-year bond yield rose 16 basis points, or 0.16 percentage point, to 2.41 percent at the 5 p.m. London close. The 1.6 percent security due April 2025 fell 1.345, or 13.45 euros per 1,000-euro ($1,128) face amount, to 92.96.
Spain's yield premium has ballooned in recent months as Greece moved closer to its euro-area bailout expiring without future financing arrangements in place.
The extra yield investors demand to hold Spanish 10-year bonds over similar-maturity German bunds ended the day at 159 basis points, the highest since July, and up from 89 basis points as recently as March. Even so, it remains less than a fourth of its 638 basis-point closing-market high reached in July 2012, as the European Central Bank's bond-buying plan bolster the securities.
Wider Spreads
Italy's 10-year bond yield climbed 14 basis points to 2.36 percent Monday, and Portugal's increased 22 basis points to 3.25 percent, the biggest gain since May 5.
Spanish 10-year bond yielded five basis points more than their Italian counterparts, the most since March 2014. The Italian yield was 41 basis points higher than its Iberian peer as recently as October.
"As the situation stands, it makes sense to go long German bonds and sell peripheries," said Christoph Rieger, head of fixed-income strategy at Commerzbank AG in Frankfurt. A long position is a bet an asset's price will rise. "It's either Greece comes back with a new proposal, or the focus will soon shift to how to deal with default and Grexit."
Markets are now turning their attention to a June 18 meeting in Luxembourg of euro-area finance ministers that may become a make-or-break session deciding Greece's ability to avert default and its continued membership in the currency bloc. A 3.5 billion-euro bond held by the ECB matures on July 20 and a failure to repay it could cause the central bank to cut off Greek banks' access to emergency funding.
Accelerated Integration
The yield on Greece's two-year notes jumped 364 basis points to 29.67 percent. The nation's 10-year bond yield rose 56 basis points to 12.32 percent.
While Greece is the worst-performing sovereign-debt market this year, losing 7.4 percent through June 12 based on Bloomberg World Bond Indexes, Spain's are the next-worst in the euro area, with a 2.5 percent decline.
"In the short term the ECB has the tools to avoid massive contagion," Marco Stringa, an economist at Deutsche Bank AG in London, said in an interview on Bloomberg Television's "The Pulse" with Francine Lacqua. "In the medium term I think it's a problem. The euro area politicians will have to make the choice. You can survive but you have to accelerate the integration process."
'Extra Mile'
The yield on 10-year bunds, the euro region's benchmark sovereign securities, declined one basis point to 0.83 percent. That on similar-maturity Belgian bonds increased six basis points to 1.29 percent, with the yield spread over bunds expanding to as much as 48 basis points, the widest in almost a year.
Europe needs a "strong and comprehensive agreement, and we need this very soon," Draghi told lawmakers at the European Parliament in Brussels on Monday. "While all actors will now need to go the extra mile, the ball lies squarely in the camp of the Greek government" to take the steps to reach an accord, he said.
With Greece's short-dated yields higher than those on longer-maturity bonds, a so-called inverted yield curve may signal that investors are worried whether they get their cash back in the short term.
"We favor risk-aversion strategies," said Mohit Kumar, head of rates strategy at Credit Agricole SA's corporate and investment bank unit in London. "While we expect an agreement to be reached eventually, things may have to get worse before they get better. The path has to be through higher volatility."
Before it's here, it's on the Bloomberg Terminal.
LEARN MORE