GE Wary of Boosting Jet-Engine Output as Airbus Keen on Ramp-Up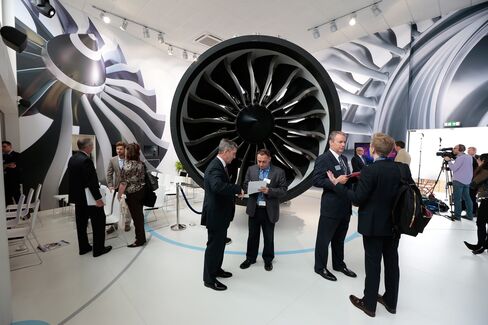 General Electric Co. said it must be sure that its jet-engine arm can handle an acceleration in build rates already agreed with planemakers before committing to any further increases in production.
GE plans to lift output of its Leap powerplant built for a new generation of narrow-body jets from 40 next year to 600 in 2017 and 1,200 in 2018, a level that's unprecedented even for the world's No. 1 engine maker, GE Aviation Chief Executive Officer David Joyce said Monday at the Paris Air Show.
Airbus Group SE said separately at the expo that there's a "solid" business case for taking production of its A320 single-aisle family to at least 60 planes a month, and that the key issue in a decision is the ability of suppliers to cope. Joyce said that GE is in talks with both the European company and Boeing Co. about the possibility of a further rate boost.
"We need to prove to ourselves that we can go from 40 to 600 to 1,200," Joyce said in a media briefing. "We would like a little validation of our ability to do those ramp rates before we go ahead and commit to the larger ramp rates."
Airbus is currently churning out narrow-body jets at a rate of 43 a month and is committed to lifting that to 50 by early 2017. The Toulouse, France-based company said last month that a figure of 63 could be required by 2018.
'Justified'
"From our point of view there's absolutely no question that a rate increase can be justified," Tom Williams, Airbus's head of operations, said in an interview at the Paris expo. "But then it comes to the question of the supply chain. We have to make sure that not only the first-tier suppliers but also the second-tier guys are ready."
Engine-makers are at the top of a list of a "couple of critical suppliers" for the company, Williams added. "There's still a lot of discussion going on."
Airbus is lifting A320 output as it transitions to the re-engined Neo version of the plane, with Boeing making a parallel move with the rival 737 Max. GE's Leap is the exclusive offering on the Boeing aircraft and is one of two options on the revamped A320, alongside Pratt & Whitney's geared turbofan.
Boeing is currently building 42 narrow-bodies a month, the highest-ever pace, and will reach 47 in 2017. The Chicago-based company has said it's capable of producing 60 737s a month if it determines that there's sufficient demand.
GE Aviation, the conglomerate's second-largest industrial unit, has a record 15,000 engines in its backlog. The subsidiary is stress-testing its supply chain by periodically boosting orders from partsmakers to ensure they can handle the expected 17 percent rise in annual deliveries by 2020.
Before it's here, it's on the Bloomberg Terminal.
LEARN MORE