Euro Risk Indicators Signal Danger as Greece Bailout Talks Fail
The breakup of the Greek bailout talks sent indicators of credit risk surging across the euro zone.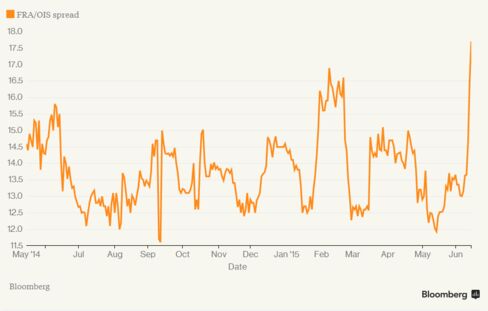 A gauge of how much banks expect to pay to borrow euros, known as the FRA/OIS spread, jumped to a two-year high. A measure of financial-debt risk that tracks credit-default swaps rose to the highest level since April 2014, while Greek bank bonds reached an almost two-month low.
"That's a sign of risk aversion," said Steven Major, the global head of fixed-income research at HSBC Holdings Plc in London. "Our view remains that a compromise will be reached even though a few key dates have passed. That said, there'll be a lot of volatility before we get there."
Greece and its creditors hardened their positions after negotiations to bridge their differences fell apart in just 45 minutes on Sunday. Attention now turns to a June 18 meeting of euro-area finance ministers, which may be make-or-break for Greece's ability to avert default and stay in the euro.
The FRA/OIS spread tracks predictions in the forward market for the three-month euro interbank offered rate relative to overnight indexed swaps. It widened to 18 basis points, the most based on closing prices since July 2013 and up from 13.8 on June 10, data compiled by Bloomberg show.
The gap reflects traders' expectations that banks will charge more to lend Europe's single currency in the future.
Financial Risk
The Markit iTraxx Financial Index of credit-default swaps on 30 European banks and insurers climbed five basis points to 84 basis points. While that's the highest in more than a year, it's still a fraction of its peak of more than 350 basis points in November 2011. A basis point is 0.01 percentage point.
Piraeus Bank SA's 500 million euros ($562 million) of 5 percent notes maturing in March 2017 dropped 5.6 cents on the euro to a seven-week low of 61.8 cents, pushing the yield up to 38.3 percent, according to data compiled by Bloomberg.
"Until there's some clarity on Greece, it's going to be hard to see an end to this nervousness and risk aversion," said Juan Esteban Valencia, a credit strategist at Societe Generale SA in Paris. "A lot of investors are standing on the sidelines. It's all negative sentiment and the fear of the unknown."
Before it's here, it's on the Bloomberg Terminal.
LEARN MORE