Embraer Sells $2.6 Billion of Planes to Aircastle, United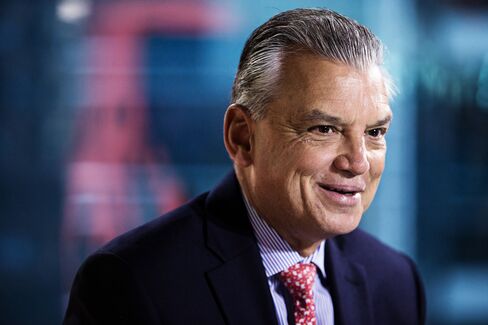 Embraer SA opened the Paris Air Show by winning $2.6 billion in firm orders for regional jets among customers including U.S. lessor Aircastle Ltd. and United Continental Holdings Inc.
Aircastle agreed to buy 25 larger E190-E2 and E195-E2 models, while United will take 10 of the 76-seat E175s flown by its commuter partners, Embraer executives said Monday. Embraer also reached deals with SkyWest Inc. and Chinese airline Colorful Guizhou.
The deals for 50 planes cement Embraer's standing as the biggest maker of regional jets, and the orders for the current E-Jets will help keep assembly lines busy until the updated models begin entering service in 2018 with the E190-E2. Embraer's adjusted net income trailed analysts' estimates for two straight quarters.
"Embraer has suffered a lot this year with disappointing results, so the sales announcements give investors a relief," Rafael Ohmachi, an analyst at the brokerage Guide Investimentos, said in a phone interview from Sao Paulo. "The prospects for greater revenue are good news for the company."
Embraer rose less than 1 percent to 24.26 reais at the close in Sao Paulo, while the country's benchmark index declined less than 1 percent.
Jet Backlog
Aircastle's deal includes purchase rights for another 25 planes. Embraer now has a backlog of 267 firm orders for its second-generation E-Jets, as well as 373 options and purchase rights.
United's purchase bolsters the Chicago-based airline's fleet of smaller regional jets.
Embraer secured 17 buys, including options, from China's Colorful Guizhou as the planemaker projects growing demand in the Asia-Pacific region over the next two decades. A number of airlines are increasing routes within China, boosting demand for mid-range models, said John Slattery, chief commercial officer of Embraer Commercial Aviation.
"It fits directly into the strategy that we've seen in China," he said. "We're seeing 100-seaters being right in the crosshairs for startup airlines like Colorful Guizhou."
Colorful Guizhou will take the current generation E190s, a higher-margin plane, which should be good for Embraer's results, said Peter Skibitski, an analyst at Drexel Hamilton LLC, by phone.
(An earlier version of this story was corrected to show who had the backlog in the fifth paragraph.)
For more on the 2015 Paris Air Show, go here: Special Report
Before it's here, it's on the Bloomberg Terminal.
LEARN MORE