Meet the Economic Expert Who Says Punk-Rock Is a Bullish Sign for China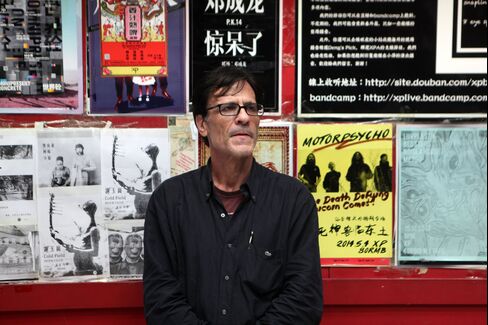 Slouched deep in a swivel chair, knees bouncing up and down and hands gesticulating excitedly, Michael Pettis can't contain his enthusiasm over "an explosion of creativity" in China's underground rock music scene.
Carsick Cars, the best-known band on Pettis's music label Maybe Mars, has just won a semi-official award for exporting culture while another, Chui Wan, has seen a CD break into the top 200 at CMJ, the chart for American college radio stations.
"Beijing's music scene is a good sign that right now there is an atmosphere, at least in some of the great cities, in which young Chinese find it rewarding and exciting to be creative," said Pettis, who is also professor of finance at the Guanghua School of Management at Peking University. "It proves wrong those people, both foreign and Chinese, who do not have confidence in the ability of young Chinese to be innovative."
The creative explosion is all the more remarkable given it has coincided with President Xi Jinping's crackdown on the Internet, jailing of famous bloggers and new punishments for defamatory social-media posts. The fact that a top Chinese band can now tour 40 cities instead of 10 half a dozen years ago is a bright spot against an otherwise gloomy backdrop of sliding economic growth, which Pettis ascribes to excessive debt.
"A part of China is becoming educated, urban, middle class," says Pettis, former head of emerging markets at Bear Stearns Cos in New York. "It's still small, but it's growing very, very quickly."
Carsick Cars
Carsick Cars also sells out downtown clubs in Manhattan and Brooklyn and has toured Europe with Sonic Youth, one of the world's best known underground bands. The band's leader, Zhang Shouwang, was mentioned in "The Rest is Noise. Listening to the 20th Century," a book by Alex Ross, the New Yorker's music critic.
Pettis, in his mid-fifties, observes China's rapidly evolving economic and social scene from a unique perch, frequently ensconced in the top floor of his rabbit warren-like office above his bar, XP, in Beijing's scenic Houhai district. Aside from bringing fame to Chinese musicians, he's a prolific blogger, commentator and speaker on the global financial conferences circuit. He also chairs a shadow central bank committee made up of his students at Peking University.
He's best known for his downbeat and prescient assessments of China's economy. Pettis started warning that China was seeing unsustainable growth in debt in about 2006 to 2007, he recalls, when he likened the nation's growth model to one described by Russian-born economist Alexander Gerschenkron.
Gerschenkron Model
Gerschenkron compared western Europe with later industrializers in Eastern Europe and Russia. For development latecomers, he found that state intervention could compensate for inadequate capital and entrepreneurship. The more backward a nation is at the start of development, the more likely it will experience rapid growth rates, according to his 1951 essay "Economic Backwardness in Historical Perspective."
Pettis calls China's growth model "Gerschenkron on steroids" and sees it heading for an inevitable collision –- traumatic if credit-fueled growth continues unabated for long enough -- with debt capacity constraints.
"Every time we are in one of these growth miracle periods it tends to generate expectations that during the adjustment period all get dashed," said Pettis. "I suspect we are just replaying that game."
He sees growth averaging 3 to 4 percent annually as the "upper limit" achievable under the term of President Xi, expected to end in 2022, as the debt accumulated from a lending binge after the global financial crisis drags down expansion.
Debt Tyranny
"He was the first I recall to insist that rebalancing away from investment would necessarily entail lower growth," said George Magnus, a senior independent economic adviser to UBS Group AG in London. "He's always reminded us that just because the Chinese financial system is state owned and that a Lehman moment was therefore nonsense, didn't mean China would escape the tyranny of having to pay for bad debts."
Pettis's teaching assistant, Yang Hao, says when he first encountered him about three years ago he was surprised by his professor's downbeat assessment of China's economic outlook. After about one semester though he began shifting his viewpoint.
"Objectively it looks like he's right," said Yang, a Ph.D. student who is writing a thesis on state-enterprise reform. "I just hope that things will turn out better than everybody expects."
Pettis's bearish calls seem more prophetic than ever. Economic growth this year is headed for the slowest pace since 1990 as the debt burden puts a brake on expansion.
Maybe Mars
Still, his bands are going from strength to strength. Another of Maybe Mars's top names, Snapline, held a supposedly private show for friends at XP in April and packed in 200 people with a similar number turned away, said Pettis. It's planning a tour of Europe in the fall and a new album should be completed by the end of the year, says lead singer Chen Xi.
"When we first started Snapline there was nobody who wanted to sign us and few places we could play," said Chen, a 32-year-old who by day works as a program manager for Microsoft Corp. in Beijing. "He built the environment in which Chinese bands can grow and he introduced these Chinese bands to the world music industry globally."
For a China striving to shift its economy up the value added curve, making more innovative products like iPhones instead of cheap shoes and T-shirts, the burgeoning rock scene is an encouragement.
"It probably isn't an accident that nearly every city in the world with a reputation as an important center for high tech innovation is also an important center of cultural innovation, and is as crowded with young computer scientists as it is with young artists and musicians, '' he says.
— With assistance by Kevin Hamlin
Before it's here, it's on the Bloomberg Terminal.
LEARN MORE