Billionaires Drive India Defense Supplier to Solar Panels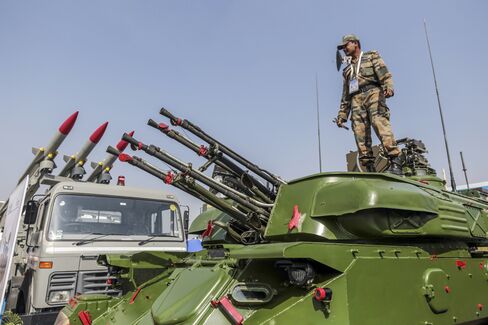 As Indian Prime Minister Narendra Modi turns to local billionaires to modernize the nation's military, a state-owned defense supplier is hedging its future by diversifying into civilian contracts.
Bharat Electronics Ltd., a maker of radar and avionics, is looking to double its non-defense revenue in three years in a strategy that may help boost sales by 15 percent as early as this year, a pace of growth not seen in a decade, Chairman S.K. Sharma said in an interview.
"There's scope to expand the footprint and diversify in the civilian segment with the execution capabilities we have," Sharma said. "We are going after solar power, air traffic management systems and related areas. The comparable returns are attractive."
The company is at a crossroads as competition from private firms threatens the monopoly it has enjoyed as a state-owned supplier for 61 years. The trade ministry last year approved as many as 19 defense proposals by companies controlled by billionaires, including Mukesh Ambani and Baba Kalyani, and said 14 more didn't require any license at all.
Bharat Electronics will spend 5 billion rupees ($78 million) in the year ending March 31, 2016, on securing orders for solar power plants, Modi's smart city projects and air-traffic management systems, Sharma said. The investment will be the biggest for new initiatives in the past five years, he said.
Showing Confidence
The company is among public sector enterprises under a planned Soviet-style economy set up a few years after India's independence from Britain. Making products ranging from bread, condoms, scooters to steel and MiG fighters under license, their goal was to help cut imports to save valuable foreign exchange and gain "self-sufficiency."
Modi, who came to power about a year ago, is seeking to rely less on state-run companies that have failed to help replace obsolete weapons. He raised the foreign direct investment limit in defense to 49 percent from an earlier cap of 26 percent, allowing local companies to form joint ventures.
"Opening the sensitive defense sector means the government is showing confidence in the private sector," said billionaire Adi Godrej, whose consumer-to-real estate conglomerate is manufacturing engines and components used in air defense.
Bigger Pie
Over the next two years Godrej's group will spend more than 7 billion rupees on that initiative, which includes partnerships with foreign companies.
"The defense business is getting bigger for anyone who has the capability," said Monami Manna, an analyst at Quantum Securities Ltd. in Mumbai. "It is shrinking the monopolies of some traditional producers."
Bharat Electronics' profit jumped 25 percent to 11.7 billion rupees in the year ended March 31, the best performance since 2006, according to data compiled by Bloomberg. The shares have rallied 79 percent in the past year, compared with a 5.9 percent gain in the benchmark S&P BSE Sensex.
Sales grew 9 percent to 66.7 billion rupees last year, of which civilian orders accounted for about 16 percent. The proportion will rise to 30 percent by March 2018, Sharma said.
"We are going for large, non-defense projects that complement the core strength," Sharma said. "We will be able to achieve that with a healthy order pipeline."
Solar, Research
Bharat Electronics plans to build solar power plants to tap demand for power in a country where outages are common. India plans to quadruple renewable power capacity to 175 gigawatts by 2022, including 100 gigawatts of solar installations in three phases, according to figures from the Ministry of New and Renewable Energy.
The company will spend 15 billion rupees on research in the year ending March, of which about 10 percent will be to help procure civilian orders. The expenditure on civilian research averaged 7 percent in the past two years.
"The non-defense space in which companies like Bharat Electronics operate offers very attractive margins," said Manna, who rates the stock an accumulate. "Even with their core business facing increased competition, we are not reducing outlook on margins."
Before it's here, it's on the Bloomberg Terminal.
LEARN MORE