Billionaire Seeks BHP-Style Conglomerate in Vedanta Deal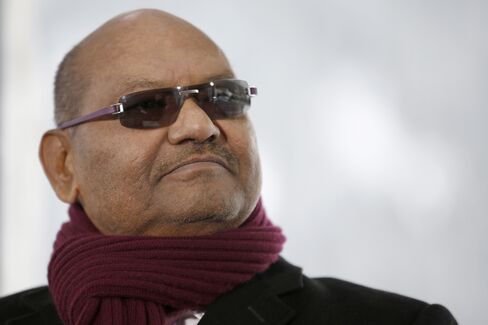 Billionaire Anil Agarwal's move to merge his two Indian units will create a national natural resources group to compete with BHP Billiton Ltd. and Vale SA.
Agarwal's Vedanta Ltd. is planning to absorb Cairn India Ltd., combining India's biggest producer of aluminum and copper with its largest onshore oil producer. The merger will create an entity with a market capitalization of about $11 billion, based on the last traded price of Vedanta Ltd.
"It's a dream to create a singular yet powerful natural resources conglomerate of Indian origin to mirror the likes of BHP or Vale," Tom Albanese, chief executive officer of parent Vedanta Resources Plc, said Sunday at the media briefing in Mumbai. "This conglomerate will be globally recognized."
The merger will also help the group, weighed down by $12 billion of total debt, reorganize the finances of Vedanta Ltd., India's second-most indebted metals company. The increased size will allow Albanese, the former CEO of Rio Tinto Group, to be more competitive against global resources giants.
"The consolidated entity will have the distinct advantage of size and strength because of the cash on Cairn India's balance sheet," Deven Choksey, managing director of K.R. Choksey Shares & Securities Ltd., said in a phone interview. "The consolidation will make Vedanta a superpower to negotiate with lenders for raising funds for expansions."
Shares Fluctuate
Both Cairn India and Vedanta Ltd. shares fluctuated between gains and losses on Monday. Cairn India gained 3.9 percent to 187.70 rupees at close of trade in Mumbai, rebounding from a drop of as much as 2.8 percent. Vedanta Ltd. fell 1.3 percent to 181.35 rupees, while Vedanta Resources declined 0.9 percent to 589 pence as of 12:15 p.m. in London.
Under the all-stock deal, Cairn India shareholders will get one ordinary share and one 7.5 percent-redeemable preference share in Vedanta Ltd., according to statements from both the companies on Sunday. The deal offers shareholders an implied premium of 7.3 percent over Cairn India's last close.
The merger may prove to be a "raw deal" for minority shareholders of Cairn India and they may reject the deal, Vikash Kumar Jain, an analyst at CLSA Asia-Pacific Markets, said in a note to clients on Monday, a day after the companies announced the merger. A rejection by minority shareholders may boost Cairn India's stock by 40 percent to 50 percent, CLSA forecast in the note, upgrading the stock to a buy rating.
"Approval from government due to court cases and minority shareholders because of unattractive valuations may prove a hurdle for this merger," Jain said in his note.
Energy Focus
Oil and gas will remain a key focus and Vedanta intends to protect the Cairn brand, Albanese said. The enlarged group will boost capital access, Cairn India CEO Mayank Ashar told reporters.
Vedanta Ltd.'s's group debt surged to 777.52 billion rupees ($12 billion), excluding a $1.25 billion inter-company loan from Cairn India, after Agarwal bought the oil producer in 2011 and began expanding aluminum and power-generation capacity. Cairn India had cash of $2.7 billion cash as of March 31, according to an April 29 presentation on the website.
More than a quarter of Vedanta Ltd.'s operating profit came from aluminum in the last quarter, with other businesses including zinc and crude oil contributing the remainder.
That compares with Melbourne-based BHP, the world's biggest mining company, which last year got 32 percent of its sales from iron ore, 22 percent from petroleum and 21 percent from base metals, excluding aluminum. Rio de Janeiro-based Vale, the world's top nickel producer, had 72 percent of sales from ferrous minerals and coal, while base metals contributed 21 percent in the year ended Dec. 31.
Lazard & Co. advised Vedanta Ltd. on the deal, while DSP Merrill Lynch Ltd. and JM Financial Institutional Securities Ltd. were the advisers for Cairn India. J.P. Morgan Cazenove and Morgan Stanley assisted Vedanta Resources, according to the statement.
Debt Refinance
Vedanta Ltd. is at advanced stage of refinancing $2 billion of debt maturing next year, Vedanta Resources Chief Financial Officer D.D. Jalan said at the briefing. Vedanta Ltd.'s debt cost may decline or remain at 7.5 percent, he said.
"This is very positive for Vedanta Ltd.," said Giriraj Daga, a portfolio manager at SKS Capital & Research Pvt. in Mumbai. "Its debt should come down by 250 billion rupees."
Post-merger, London-listed parent Vedanta Resources Plc's holding in Mumbai-listed Vedanta Ltd. will drop to 50.1 percent from 62.9 percent. Vedanta Ltd. will also consider absorbing some overseas units to simplify the group structure, it said.
Vedanta Ltd. is facing shrinking profit margins after the premium paid for immediate delivery of aluminum plunged 70 percent from a November record. Crude's 45 percent plunge in the past year led to Cairn India's first quarterly loss in more than seven years. The company produces oil and gas from three of its seven blocks in India.
Vedanta Ltd. also owns a 64.9 percent stake in Hindustan Zinc Ltd., which has $4.9 billion of cash, according to data compiled by Bloomberg. The Indian government has a 29.5 percent stake in the zinc producer, which has more cash than Cairn India.
Before it's here, it's on the Bloomberg Terminal.
LEARN MORE