Seven Things the Airlines Want You to Know About Your Baggage
An effort to allocate overhead baggage space more efficiently turns into a headache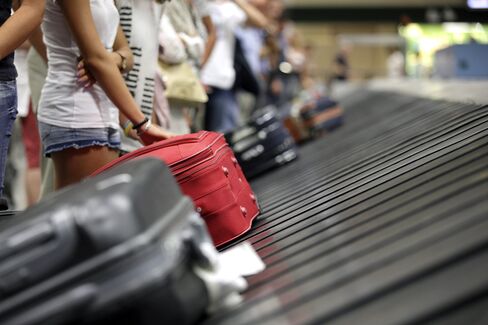 The International Air Transport Association (IATA) celebrated its 71st annual gathering last week in Miami with a well-attended event featuring the battle of U.S. airlines with their Persian Gulf rivals over allegedly unfair government subsidies. The trade group also broached a new, smaller suggested size for carry-on bags, "IATA Cabin OK," so more people can fit a bag into the overhead bins.
That led to a barrage of news stories suggesting that nefarious air travel changes were afoot and became a media headache for IATA, which represents 260 global airlines. On Friday, the group released a "clarification" on its baggage effort. A German luggage maker, Rimowa, also sought to distance itself from the controversy with a press release saying the company doesn't support any effort to curb the size of carry-on luggage.
"Passengers with Cabin OK carry-on baggage can travel with a greater assurance that it will be acceptable across the different airline requirements," IATA said. "And, when traveling on a participating airline, there is a further benefit: those bags with a Cabin OK logo will have a priority (determined individually by each airline) for staying in the cabin should its cabin capacity be exceeded and some baggage need to be moved to the hold."
Here are seven points IATA raised to target what spokesman Jason Sinclair called "all of the inaccurate reporting about this."
1. The Cabin OK effort is an industry guideline, not a new standard. (Full disclosure: I used the word standard in a June 10 story about this.)
2. The guideline won't replace airlines' maximum carry-on baggage size limits.
3. Cabin OK is an optimum size for a bag, not a maximum. (All four of the largest U.S. airlines have carry-on bag maximums that are larger than the new IATA guideline.)
4. Cabin OK aims to give passengers greater certainty that their carry-on bags will be accepted in the cabin. Most narrow-body jets, when fully booked, don't have sufficient overhead bin space for every passenger to stow a bag.
5. You don't need to buy a new bag. But your current (larger) bag will still subject you to the uncertainty that it may not get into the cabin with you.
6. The Cabin OK guideline isn't a "revenue-generating scheme for the airlines," IATA said. Most airlines don't charge to shunt a carry-on bag into the cargo hold when the overhead bin space is exhausted.
7. The plan is to help airport staff know which bags will fit. No "retro-certification" will be allowed for any existing bags that meet the Cabin OK dimension.
Here's the real question: With all the packed flights all over the world, will IATA's Cabin OK initiative reduce the number of angry confrontations between passengers and gate agents over cabin bags?
Before it's here, it's on the Bloomberg Terminal.
LEARN MORE