'You Don't Want to Know:' What Brokers Said in Hayes Messages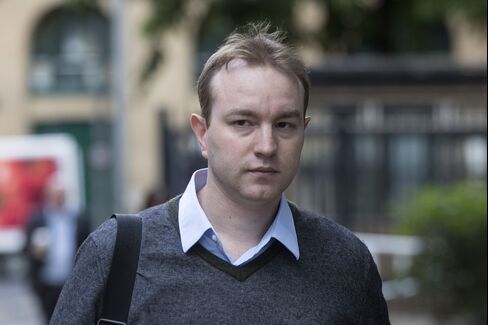 Interdealer brokers who helped former UBS Group AG trader Thomas Hayes rig Libor were rewarded with bribes of as much as 35,000 pounds ($54,000), prosecutors said.
Hayes paid outside brokers to help him move Libor by leaning on their contacts at other rate-setting banks, and making up trades to indicate trading activity in cash markets, a practice known as "spoofing."
Prosecutors presented instant messages sent between Hayes and alleged co-conspirators to jurors at his criminal trial in London Monday. Hayes, 35, is accused of eight counts of conspiracy to manipulate the London interbank offered rate, a benchmark for financial products worldwide.
The brokers openly discussed how much money they would receive in instant messages about the transactions, prosecutors said. The payments were made through wash trades, a series of transactions that canceled each other out for the sole purpose of getting the broker a commission.
"Have you just done a 35,000 pound trade today?" one broker asked a colleague after he entered one such trade into the company's internal system.
"Yeah," the second broker replied in the February 2009 instant message conversation shown to the jury.
"Holy s--t!," the first broker said. "How did you do that?"
"You don't want to know," the second broker said.
"You're right," the first broker countered. "I don't want to know."
Read this next:
Before it's here, it's on the Bloomberg Terminal.
LEARN MORE