'Jurassic World' Tops Harry Potter for Biggest Global Opening Ever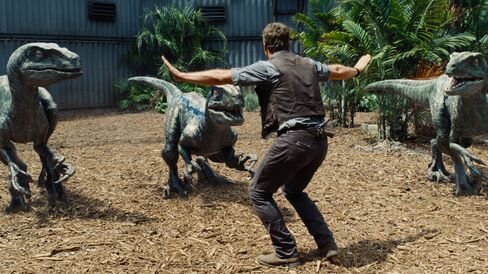 "Jurassic World," Universal Pictures' reboot of the dinosaur franchise, topped global box offices in its debut, garnering the most worldwide sales ever in an opening weekend.
"Jurassic World" generated $511.8 million in its global opening, Universal said in a statement. It passed "Harry Potter and the Deathly Hallows Part 2," which took in $483.2 million in 2011.
With "Jurassic World," Universal overtook Disney and Warner Bros. to hold the biggest share of the domestic market this year, Rentrak said. The success of "Jurassic World" revived a two-decade-old franchise for the Los Angeles-based studio. Universal already found success this year with "Pitch Perfect 2" and this month will release a sequel to the Mark Wahlberg comedy "Ted."
"I've never seen a film obliterate all expectations in the way 'Jurassic World' has," Paul Dergarabedian, a senior media analyst at Rentrak, said in an interview. "This was such a mammoth debut. It is going to create a lot of momentum going forward that could make this summer a record-breaker for the industry."
The latest Jurassic Park installment collected $204.6 million in theaters in the U.S and Canada, Rentrak Corp. said Sunday in an e-mailed statement. Only Walt Disney Co.'s "Marvel's The Avengers," with $207.4 million in May 2012, generated more sales in its opening weekend.
Until this weekend, Warner was the leading studio with $885 million in ticket sales this year, thanks to "San Andreas" and "American Sniper," according to analysts at Bloomberg Intelligence. Disney followed with $856 million, mainly on the success of "Avengers: Age of Ultron."
"Jurassic World" puts Universal's sales at more than $1 billion, Dergarabedian said in an e-mail. The weekend total includes movie showings on Thursday night, a practice that has become more common in recent years.
Mutant Dinosaur
With "Jurassic World," Colin Trevorrow took the director's seat after only one previous feature film credit, for "Safety Not Guaranteed." The original "Jurassic Park" was directed by Steven Spielberg, who served as an executive producer on the latest sequel.
Twenty-two years after the events of "Jurassic Park," Isla Nublar is a full-fledged dinosaur theme park. After 10 years of operation and with visitor rates declining, the attraction's managers create a mutant dinosaur to spark visitor interest -- a move that backfires, fatally.
Chris Pratt, who starred in last summer's biggest film, "Guardians of the Galaxy," takes the lead role as Owen Grady, a dinosaur trainer who has a tense relationship with Claire, the theme park's manager, played by Bryce Dallas Howard.
Positive Reviews
The film was warmly received by critics, garnering 70 percent positive reviews, according to aggregator Rottentomatoes.com.
The dinosaur franchise has already generated more than $2 billion globally for Universal, according to Rentrak.
"If the filmmakers agree, we would love to make another one," Nick Carpou, Universal's president of domestic production, said in a telephone interview. "Universal is enjoying unprecedented success so far this year."
AMC Entertainment, the second-largest U.S. movie-theater owner with almost 5,000 screens, said it was allocating about half of its seating capacity this weekend to showing "Jurassic World."
Espionage Comedy
"Spy," the Melissa McCarthy comedy from 20th Century Fox, collected $16 million this weekend in the U.S. and Canada, according to Rentrak. Boxoffice.com predicted it would bring in $15.5 million. "San Andreas," from Warner Bros., collected $11 million and had a Boxoffice.com forecast of $10.5 million.
Weekend sales for the top 10 films surged 48 percent to $262.2 million from a year earlier, Rentrak said. Sales for the year to date have increased 4 percent to $4.9 billion.
The following table has U.S. movie box-office figures provided by studios to Rentrak. The amounts are based on actual ticket sales for Friday and Saturday and estimates for Sunday.
                     Rev.   Pct.             Avg./   Total
   Movie            (mln)   Chg. Theaters  Theater   (mln)  Wks
================================================================
1 Jurassic World    204.6     --    4,274   47,870    204.6    1
2 Spy                16.0    -45    3,715    4,307     56.9    2
3 San Andreas        11.0    -57    3,535    3,115    119.3    3
4 Insidious Chapter   7.3    -68    3,014    2,422     37.4    2
5 Pitch Perfect 2     6.0    -21    2,677    2,230    170.7    5
6 Entourage           4.3    -58    3,108    1,396     25.9    2
7 Mad Max: Fury Road  4.1    -47    2,234    1,849    138.6    5
8 Avengers: Ultron    3.6    -43    2,156    1,689    444.7    7
9 Tomorrowland        3.4    -53    2,540    1,345     83.6    4
10 Love & Mercy       1.8    -17      573    3,082      4.8    2



Top 10 Films Grosses



   This Week     Year Ago      Pct.
     (mln)         (mln)       Chg.
===================================
    $262.2        $177.3      47.9



Year-to-date Revenue



     2015          2014
      YTD           YTD        Pct.
     (mln)         (mln)       Chg.
===================================
    $4,847        $4,662       4.0

Source: Rentrak Corp.
Before it's here, it's on the Bloomberg Terminal.
LEARN MORE