Sex Gap Swells in Denmark as First Female PM Abandons Goals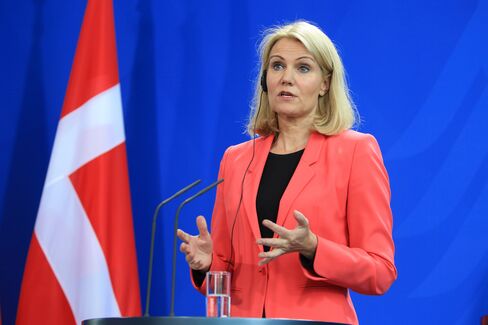 As her term comes to an end this week, Denmark's first female prime minister can look back at four years during which the gender gap in Danish politics widened.
Social Democrat Helle Thorning-Schmidt, who's neck-and-neck with her opponent before June 18 elections, promised to put more women in cabinet posts. Instead, under her watch the number fell to 37 percent from 48 percent under former prime minister, Lars Loekke Rasmussen, who now leads the opposition.
"Having a female prime minister has tricked everyone into abandoning efforts to boost equality," Karen Sjoerup, a professor of gender studies at Roskilde University, said in a phone interview. "It's a misperception to believe we're done just because a woman made prime minister."
As Denmark celebrates the 100th anniversary of giving women the vote, it continues to lag behind Sweden, Norway, Finland and Iceland in the World Economic Forum's Gender Gap Index. The lower equality score Denmark has had for the better part of a decade stems mainly from its underperformance in the subindex for political empowerment.
The percentage of women running for the Danish parliament in this election will decline for the first time in almost two decades. About 31 percent of all candidates are women, down from 33 percent in 2011. According to Sjoerup, even in an advanced society like Denmark's, women still do more housework and are the primary childcarers, making it hard to pursue tough political careers.
Raising Children
Anahita Malakians, a 31 year-old candidate for the opposition Liberal Party, says it can at times be unnerving trying to combine a life in politics with raising a small child.
"I may have an advantage because I'm a woman and an immigrant, to make myself noticed," Malakians said while campaigning in the street in front of a metro station in central Copenhagen. "But it's 2 in the afternoon and I'm already wondering when and how I'll pick up my three kids from kindergarten and school."
During her 2011 campaign, Thorning-Schmidt said she had the solution: force fathers to share the burden of childcare through legislation that splits parental leave more evenly. That bill was never introduced. She also abandoned a pledge to require female representation on corporate boards and never followed up on a promise to stop people buying sex services, which would have matched a law in Sweden.
Breaking Barriers
Thorning-Schmidt's government bloc was slightly behind the opposition in four polls published on Monday. But she may still win because the surveys don't include the Danish territories of Greenland and the Faroe Islands, which in recent elections have favored her bloc.
To be sure, even though Thorning-Schmidt took no explicit steps to promote gender equality, she has broken through barriers by becoming the posterchild for female leadership in Denmark, according to Ida Auken, a member of parliament in the government's junior coalition partner.
"We're on the right path and just need time," she said. "Every woman in this country now knows there's no job she can't have."
Show business has also played a supportive role. The Danish Emmy-nominated TV series Borgen, which follows the rise of Birgitte Nyborg, is a feminist project showing the costs a political career carry for a woman, according to its writer Adam Price. The show debuted a year before Thorning-Schmidt came to power.
"We chose to have a female prime minister because it made the most painful and dramatic story," Price said in an interview. "Regardless of how progressive we think we are, we still think that women are closer to families and children than men."
Read this next:
Before it's here, it's on the Bloomberg Terminal.
LEARN MORE