Korean Air Poised to Split 60-Jet Order Between Airbus, Boeing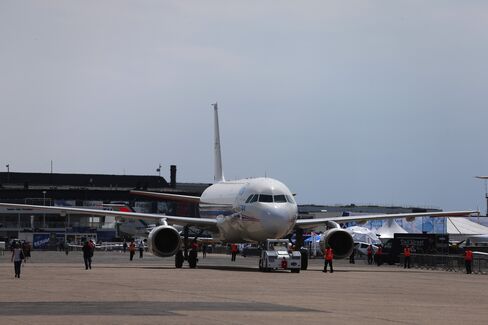 Korean Air Lines Co., is poised to announce contracts for 60 single-aisle planes valued at more than $6 billion at the Paris Air Show, split between Airbus Group SE and Boeing Co., according to people familiar with the matter.
The order will be evenly divided between the Airbus A320 series and Boeing's 737, said the people, who asked not to be named because the commitments have yet to be a announced. Both jets have list prices of about $106 million for baseline versions of the latest re-engined models, before any discounts.
A purchase including the A320 would be Korean's first for the European company's single-aisle offering. The Seoul-based carrier's short-haul lineup currently features only variants of the 737, though it does operate Airbus wide-bodies including the A380 superjumbo, according to fleet data on its website.
For more on the 2015 Paris Air Show, go here: Special Report
Before it's here, it's on the Bloomberg Terminal.
LEARN MORE