Fired Miner's 50% Pay Cut Just Start of Australian Wage Pain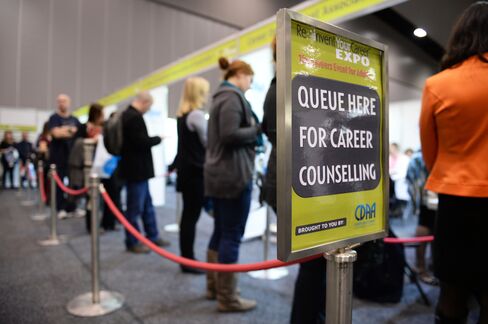 For 20 years Australians doubled down on debt, confident that rising wages would inflate away the burden and grow their wealth. Now their luck seems to be running out.
Geologist Marzena Grochot has been forced to go back to her former career as a dental technician after losing her mining job that paid twice as much. Her plan to sell the family's two-storey, four-bedroom house in Perth is also foundering in a weak market as the impact of collapsing mining investment spills out across the economy.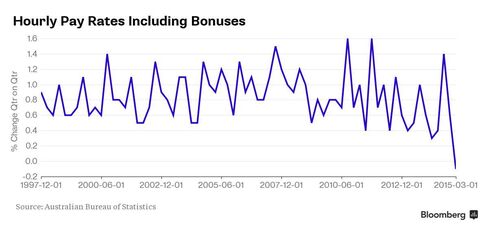 "It's affecting everyone -- people stop going out and spending money," the 37-year-old said. "Even working in the dental industry, everything is slowing down because parents can't afford any more braces for their kids and are postponing treatments."
Australian wages fell in the first quarter for the first time on record as the wall of Chinese money scooping up the nation's commodities receded. The implications are profound: stagnant pay limits household spending that accounts for about 55 percent of the economy; it impedes government efforts to repair the budget; and will force the central bank to maintain low interest rates for an extended period or cut even further.
"This is going to be long, it's going to be slow, it's going to be a grind," said James McIntyre, head of economic research in Sydney at Macquarie Bank Ltd. and a former Treasury official. "The risk is it's going to be painful."
Main Levers
The three main levers for the economy to adjust to the end of the commodities bonanza are a sharp depreciation of the currency, a surge in productivity or wage cuts, McIntyre said. The Reserve Bank of Australia has focused on the local dollar, yet with a 2 percent cash rate competing against zero levels in major developed economies also seeking lower currencies, its success has been limited.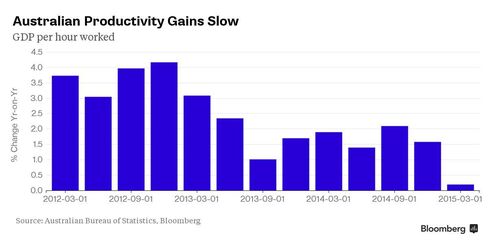 Higher productivity requires investment to give workers better tools to boost their output, or regulatory changes that improve firms' operations. But political reluctance to take on vested interests is impeding the structural reforms needed to boost productivity, which dropped in the first quarter.
That leaves pay cuts as the economy's adjustment mechanism.
"This low wage growth is going to go on for quite a while," said Bob Gregory, a professor at Australian National University in Canberra who has studied the economy for almost half a century. "So if you're counting on meeting debt with your wage increases, that's going to be much harder than ever before."
Household debt as a proportion of disposable income rose to a record 153.8 percent in the final quarter of last year, having more than doubled over the past two decades.
RBA Assistant Governor Christopher Kent said in Canberra Monday low interest rates may be encouraging some indebted households "to pay down their debts faster than has been the norm, perhaps in response to weaker prospects for income growth."
Poland to Pilbara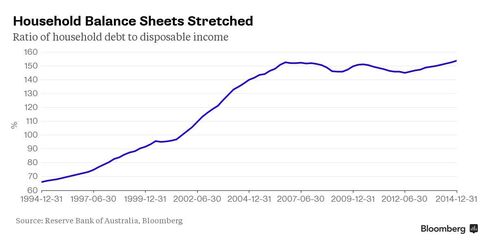 Having trained in both dentistry and geology, Grochot moved to Australia from her native Poland in 2003 just as the mining boom was gaining momentum. One Saturday in 2008 she decided to apply online for a job as a geologist; the company rang her first thing the following Monday morning and she was soon hired and working in the mineral-rich Pilbara region in Australia's northwest.
"It's amazing how different things are today," she said of the jobs market after nearly two years of hunting for work.
Australian workers face wage cuts just as their American counterparts are enjoying the biggest increase in pay packets since 2006. The difference is reflected in the policies of the respective central banks, with the Federal Reserve preparing to tighten policy as the RBA considers further loosening its record-low rate.
Disappointing Performance
Governor Glenn Stevens said last week the economy's performance has been "disappointing" and said it "could do with some more demand growth" over the next couple of years.
With households having already built up debt, they "probably have the least scope to expand their balance sheets to drive spending," Stevens said.
While growth in Australia slowed to 2.3 percent in the first quarter, it's still faster than every Group of Seven country outside the U.S. and U.K., which expanded at 2.7 percent and 2.4 percent as their recoveries gather pace.
Australia's government, meanwhile, needs wage growth to push salaries into higher tax brackets to narrow a shortfall in revenue. "This has big implications for budgets," said ANU's Gregory. "If nominal wage growth remains very depressed, then the deficit is likely to blow out."
Weaker-Stronger
For Australian firms, wages are a chicken-and-egg scenario. They need them weaker to increase export competitiveness, but also need the domestic demand that bigger pay packets bring. Australia in 2013 had the highest real minimum wage among developed nations after the Benelux group, according to the Organisation for Economic Cooperation and Development.
The central bank estimates 60,000 jobs will be lost from mine construction in the four years through 2018. Given that these are high-paying positions, ex-miners' new jobs are likely to depress median pay rates, and reduce national income.
Electricians who previously worked in mines now earn 30 percent to 40 percent less for similar work in the consumer goods industry, said Ed Hinschen, operations director at Labour Solutions Australia, which supplies as many as 3,500 workers.
"The market is not very promising at all," Grochot said. "I don't want to count because it would be really depressing for me to know how many jobs I have applied for."
Before it's here, it's on the Bloomberg Terminal.
LEARN MORE