Billionaire Agarwal Combines Units Amid Resource Downturn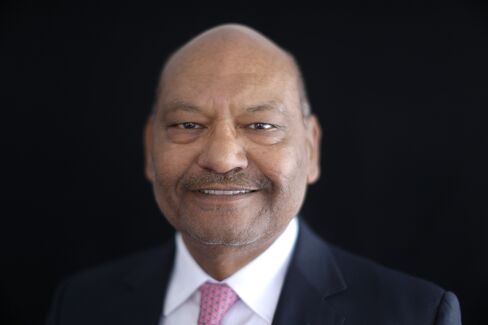 Billionaire Anil Agarwal's Vedanta Ltd. will absorb unit Cairn India Ltd., combining India's biggest producer of aluminum and copper with the operator of its largest onshore oil block.
The all-stock deal will offer each Cairn India shareholder one ordinary share, and a 7.5 percent-redeemable preference share of Vedanta Ltd. with a face value of 10 rupees, according to statements from both the companies on Sunday. The deal will give shareholders an implied premium of 7.3 percent over the last traded price of Cairn India stock.
The combined entity will help Agarwal, weighed down by $12 billion of group debt amid a downturn in crude oil and aluminum, reorganize the group's assets and liabilities. It will also give him access to Cairn India's $2.7 billion of cash.
Oil and gas will remain the key focus of Cairn India and Vedanta intends to protect the Cairn brand, Vedanta Resources Chief Executive Officer Tom Albanese said at a media briefing in Mumbai on Sunday after the merger announcement. The enlarged group will boost capital access, Cairn India CEO Mayank Ashar told reporters.
Vedanta Ltd. is at an advanced stage to refinance $2 billion of debt maturing in the middle of next year, Vedanta Resources Chief Financial Officer D.D. Jalan said at the briefing. Vedanta Ltd.'s debt cost may decline or remain at 7.5 percent, he said.
Post-merger, London-listed parent Vedanta Resources Plc's holding in Mumbai-listed Vedanta Ltd. will drop to 50.1 percent from 62.9 percent. Vedanta Ltd. will also consider absorbing some overseas units to simplify the group structure, it said.
Shrinking Margins
Vedanta, the nation's second-most indebted metals company, is facing shrinking profit margins after the premium paid for immediate delivery of aluminum plunged 70 percent from a November record. Crude's 45 percent plunge in the past year led to Cairn India's first quarterly loss in more than seven years. The company produces oil and gas from three of its seven blocks in India.
"We see little change in EPS or target price due to merger of Cairn India but see improvement in balance sheet as key variable in achievement of our target price for Vedanta Ltd.," according to a June 9 note by Macquarie Capital Securities India Pvt. Ltd. "Also it removes the corporate governance risks as seen from loans and advances from Cairn India to Vedanta."
Slumping crude prices prompted Vedanta to take a $3 billion non-cash writedown on account of the decline in the goodwill value of Cairn India. The oil producer decided to cut back its capital expenditure plans for the year ending March 31 to $500 million from $1.2 billion. The company will continue with a significant capex plan, Ashar said at the briefing Sunday.
Lazard & Co. advised Vedanta Ltd. on the deal, while DSP Merrill Lynch Ltd. and JM Financial Institutional Securities Ltd. were the advisers for Cairn India. J.P. Morgan Cazenove and Morgan Stanley assisted Vedanta Resources, according to the statement.
Debt Surge
Vedanta's group debt surged to 777.52 billion rupees ($12 billion), excluding a $1.25 billion intercompany loan from Cairn India, after Agarwal bought the oil producer in 2011 and began expanding aluminum and power-generation capacity. More than a quarter of the company's operating profit came from aluminum in the last quarter, with other businesses including zinc and crude oil contributing the remainder.
The metal producer has a $1.9 billion of mostly short-term loans maturing this year, which it plans to refinance into longer-term instruments, Chief Financial Officer D.D. Jalan said in an earnings call on April 29.
Vedanta, earlier known as Sesa Sterlite Ltd., in 2013 consolidated its iron ore mining business by merging Sesa Goa Ltd. with Sterlite Industries (India) Ltd., which ran copper and aluminum businesses. Vedanta Resources also transferred its 38.8 percent holding in oil producer Cairn India, including a debt of $5.9 billion to the new company.
Vedanta also owns a 64.9 percent stake in Hindustan Zinc, which has $4.8 billion of cash, according to data compiled by Bloomberg. The Indian government has a 29.5 percent stake in the zinc producer, which has more cash than Cairn India.
"The group continues to evaluate a transaction with the government of India," Vedanta Resources said in its exchange filing on June 9.
Before it's here, it's on the Bloomberg Terminal.
LEARN MORE