Cameron EU Referendum Puts Top U.K. Rating at Risk, S&P Says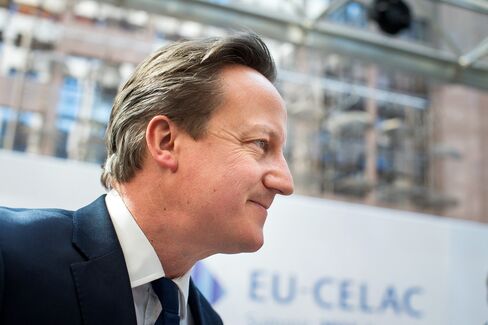 Britain's top credit rating is at risk because of Prime Minister David Cameron's planned European Union referendum, according to Standard & Poor's.
In a statement on Friday, S&P lowered the outlook on the country's AAA rating to "negative" from "stable." That means there's a one-in-three chance of a downgrade in the next two years. It follows a warning just days ago by Moody's Investors Service that the vote is a threat to Britain's rating.
Cameron has promised a referendum before the end of 2017, though it could happen as early as next year, after securing changes to Britain's relationship with the 28-nation bloc. In its analysis, S&P said that his pledge for a vote, made to placate elements of his Conservative Party, "represents a risk to growth prospects" for U.K. financial services, exports and the economy as a whole.
"The decision to propose a referendum, with all the economic risks that such a decision entails, was at least partly driven by the government's intention to contain the influence of the euro-skeptic U.K. Independence Party," S&P said. "We also believe that the referendum is aimed at strengthening unity inside the Conservative Party, which has a strong euro-skeptic wing."
The ratings company said the planned vote "indicates that economic policy making could be at risk of being more exposed to party politics than we had previously anticipated." Britain's rating could be lowered by more than one level "should we conclude that departure from the EU is likely over the medium term," S&P said.
Political Uncertainty
The pound pared its advance against the dollar after the announcement. It was up 0.3 percent at $1.5559 as of 6:22 p.m. London time, after earlier rising 0.5 percent to $1.5598, the most since May 22.
S&P upgraded its outlook on the U.K. to stable from negative a year ago, and at the time projected that the current account deficit would narrow in 2014. That deficit has since blown out to "unprecedented levels," it said.
"Clearly increased political uncertainty could damage international investors' perception of the U.K.," said Nick Stamenkovic, a fixed-income strategist at broker RIA Capital Markets Ltd. in Edinburgh. "I doubt the referendum will affect the trajectory for the U.K. economy this year but it could damage investment next year as companies adopt a cautious stance."
'Heightened Risk'
The U.K. Treasury played down the S&P analysis in a statement, saying this is a time of "heightened risk" and the government must push on with its economic program. It said that giving Britons a vote and resolving the uncertainty around the relationship with the EU is "central to that plan."
Moody's, which rates the U.K. at Aa1, its second-highest grade, said earlier this week that an early referendum could threaten the U.K. rating. That's because it increases the risk that the government won't clinch the changes it wants, an outcome which "may negatively influence the government's willingness to support remaining in the EU."
S&P said a possible U.K. exit from the EU also "raises questions" about the financing of the economy's deficits.
At 83 percent of gross domestic product, U.K. net debt is the highest among top-rated sovereigns, and Chancellor of the Exchequer George Osborne could struggle to reduce the budget deficit to 2 percent of GDP by the 2016-17 fiscal year as planned, S&P said.
"We believe meeting this target will prove to be difficult given our understanding that most of the planned reduction is set to take place by reducing benefits and other current public expenditure, without touching health or pensions," it said. "We also expect that receipts from the oil and financial services sectors will not recover to pre-crisis levels."
Osborne, who will announce a budget next month, is seeking 30 billion pounds ($47 billion) of spending cuts by 2018, including 12 billion pounds of welfare savings, to help return Britain to a surplus.
Before it's here, it's on the Bloomberg Terminal.
LEARN MORE