Sweden's Government Monitoring 'Worrying' House-Price Jump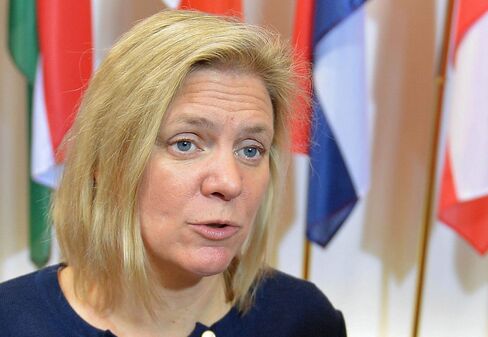 The jump in Swedish house prices revealed in a Friday report is grounds for concern and policy makers are looking for ways to deal with the development, Finance Minister Magdalena Andersson said.
"It's a worrying development," Andersson said in an interview in Stockholm. To cool the housing market, the government is planning a "powerful package" as part of its autumn budget to address supply constraints, she said. It is also in talks with opposition parties to give the financial regulator more powers to control the mortgage market, she said.
House prices in Scandinavia's biggest economy rose 11 percent in May from a year earlier, according to a report published Friday by Svensk Maeklarstatistik AB, which is owned by real estate brokers and compiles monthly property market data. Apartment prices jumped 13 percent.
"It's important that we very carefully follow this development to see what measures need to be taken," Andersson said.
The government is looking into providing the legislative framework to let the Swedish Financial Supervisory Authority force households to amortize their debts faster.
Mortgage Cap
"We also have an active policy to bring about more home construction, not least in areas where prices now are rising," Andersson said. The measure is designed to address a shortage of supply that analysts say has contributed to higher housing prices.
Sweden's FSA has said it could also consider tightening an 85 percent loan-to-value cap if the risk of a housing-price decline increases. The regulator said this month the probability house prices will turn has now "increased somewhat" as its data indicate the market is overvalued.
The price jump is the latest sign that Sweden's housing market is out of whack, as private debt loads approach an historic 180 percent of disposable incomes and property prices continue to set new records.
The central bank's main interest rate is minus 0.25 percent, while its bond purchases have driven down longer yields as policy makers struggle to drive inflation closer to the 2 percent target. Headline consumer prices rose 0.1 percent in May from a year earlier.
"When you have long period of low interest rates there's always a risk that it's not realized in real investment in the economy, but that it instead leads to inflated asset prices," Andersson said. "This is a risk for the housing market and also for other securities such as equities."
A number of economists this week abandoned forecasts the Riksbank would cut rates next month as the economic climate shifts. The krona rose as much as 0.4 percent against the euro on Friday.
Before it's here, it's on the Bloomberg Terminal.
LEARN MORE