Elizabeth Warren Says Dimon's Irked Because She Knows His Tricks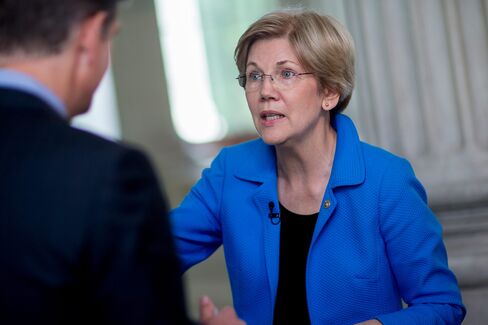 U.S. Senator Elizabeth Warren shot back at criticism from JPMorgan Chase & Co. Chief Executive Officer Jamie Dimon, saying bankers don't dislike her because she knows too little but because she knows too much.
"The problem for these guys is that I fully understand the system and I understand how they make their money, and that's what they don't like about me," Warren told the Huffington Post in a podcast interview released Friday.
The Massachusetts Democrat, who has gained prominence as one of Wall Street's fiercest critics, responded to Dimon's assertion in a speech this week.
"I don't know if she fully understands the global banking system," said Dimon, who offered to meet with Warren anytime she wants.
Asked twice in the Huffington Post interview whether she thought Dimon was "mansplaining" banking to her, Warren shook off the question.
"We'll have to call in a mansplaining expert," she said.
In the interview, Warren decried complaints from lenders that they're stuck with complex regulations when they're the ones responsible for inventing complex financial instruments.
"If you want to get out there and take on risks, OK, go out and do it, but don't do it within the structure of a bank that gets backed up by the federal government," she said.
Before it's here, it's on the Bloomberg Terminal.
LEARN MORE