Jack Dorsey's Fortune May Soon Reap the Benefits of the Founder-CEO
Tech founders see bigger gains while they're in charge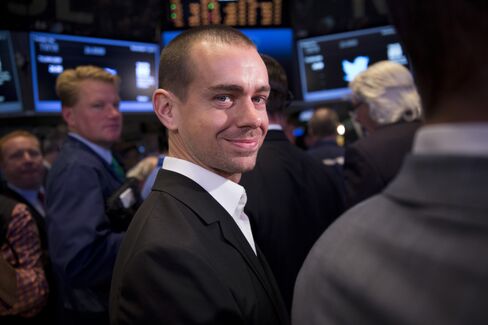 Investors welcomed Jack Dorsey's return to the helm of Twitter, pushing the social media company up almost 4 percent in early trading the day after the news that Chief Executive Officer Dick Costolo is stepping down. Dorsey will take over as interim CEO on July 1 until the company can find a permanent replacement.
The re-takeover of the company he started bodes well for Dorsey's fortune if it follows the trajectory seen by some of the world's richest founder/CEOs.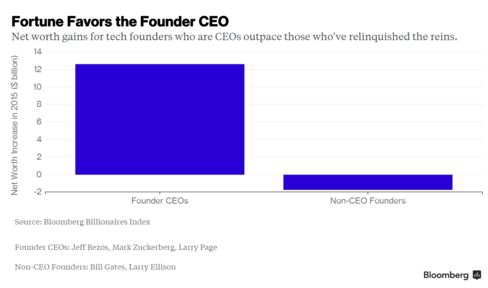 Twitter's early rise added more than $30 million to Dorsey's $2.6 billion fortune and added about $70 million to fellow Twitter co-founder Ev Williams.
Amazon's Jeff Bezos, Facebook's Mark Zuckerberg and Google's Larry Page -- all of whom are currently chief executive officers of companies they launched -- have seen their fortunes rise a combined $13 billion this year to hit a total of $105 billion. Bill Gates and Larry Ellison, both of whom have handed off the reins of the companies they founded, have seen their fortunes fall $1.8 billion in 2015. They have a combined $134 billion.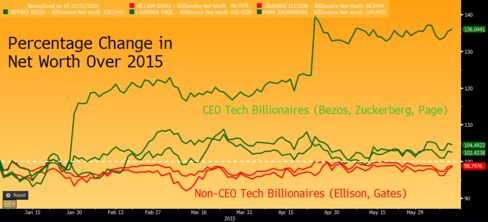 Research for the post is derived from Bloomberg Billionaires Index data. Get the latest intelligence about the world's biggest fortunes on Twitter @bbgbillionaires.
Before it's here, it's on the Bloomberg Terminal.
LEARN MORE